MARCH 13, 2013
Miniature Horse Association of Arizona (AMHA) World Champion Miniature Horses preparing for Arizona Touch of Class Show
Miniature horses that have recently won AMHA World Championships will be getting preened and conditioned to be in tiptop shape for the upcoming 26th Annual Arizona Touch of Class Miniature Horse Show in March 2013. Marcia Sizemore of the Mini-Occasion Horse Ranch, Scottsdale, AZ, drove her Miniature Horse team, Jimo's Queen of Hearts and Circle J Renegade Wind, to win two World Championship titles, the Multiple Hitch-Draft Harness class and the Antique Vehicle class at the 2012 AMHA World Show in Texas.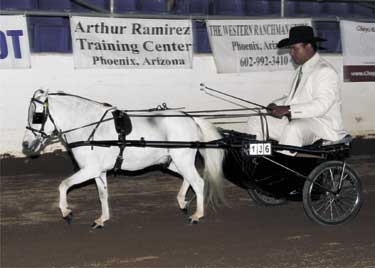 John Morris Jr. (r) of the Double JK Horse Ranch in Phoenix, AZ., driving Lutes Apache Bow in the Special Needs Pleasure Driving, took home the 2012 AMHA Championship Title and Top Ten in Gentlemen's Country Pleasure Driving. Kay Morris at the reins of O'That Frito Bandito earned a Top Ten award in Amateur Obstacle Driving, while John Morris Sr. won a Top Five place in Open Obstacle Driving. Desert Golds Btus Dream Catcher with Kay Morris (below) at the lead won Top Ten in the Golden Showmanship, Amateur Showmanship and Adult Showmanship. In all they won one World Championship, two Top Fives and six Top Ten awards.

Austin Van Wyck, horse trainer and owner of the Victory Lane Training Center in north Phoenix, finished with 20 World Championships, 15 Reserve Championships, Grand Championships and two Reserve Grand Championships, and 40 Top Tens. Paige Van Wyck, Austin's daughter, showed in Youth classes 13-18 and received two Championships, one in Youth Hunter and the other in Country Pleasure Driving, and she won Reserve Championship in Youth Classic Pleasure Driving.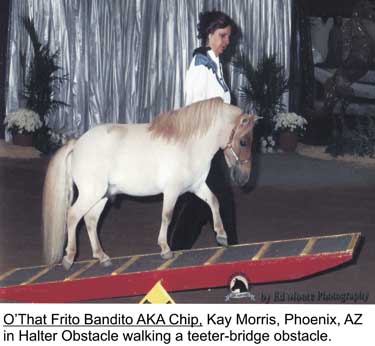 These exquisite Miniature horses and proud owners and handlers will be vying again for top awards, blue ribbons and AMHA show points against many other competitive Miniature Horses and exhibitors at the Arizona Touch of Class Miniature Horse Show on March 23 and 24, 2013 in the new Tony Nelssen Equestrian Center at Westworld of Scottsdale. According to show manager, Gaye Velasco, entries are being accepted now from exhibitors in Arizona and neighboring states. The show is an approved AMHA (American Miniature Horse Association) point show with three judges. The show will begin daily at 8 a.m. and there will be 123 classes in halter, driving, obstacle, roaster, jumping, amateur, youth, costume and showmanship.

This will be the first Miniature horse show in the new completely enclosed Westworld Equidome, so no matter the weather the show will go on. Horse supplies, jewelry, apparel, and art vendors will be on hand to show their goods. Food and refreshments will be readily available on the showgrounds. On March 24, a three item raffle with an iPad mini, Kindle Fire HD, and Golf putter will be raffled alongside the Silent Auction area and hospitality booth.

Spectators are welcome to come out and see these Miniature horses performing at their best. Arizona's infamous precision drill team of Miniature Horses, the Arizona Mini Mystique, will present an awe-inspiring driving performance on Sunday, March 24. Exhibitor info: Gaye Velasco for show premium and entry form 602-326-7230, www.azhorseshows.net
General Show info: 602-577-7618. Visit www.AZminis-MHAA.com