MARCH 13, 2013
On March 17, Cave Creek restaurant becomes "O'Harold's" with festive St. Patrick's Day Party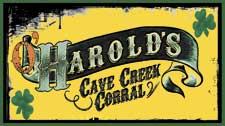 CAVE CREEK – Harold's Corral, best known as one of Cave Creek's oldest Western restaurants and cowboy bars, becomes "O'Harold's" on Sun., March 17 when its owners host a "St. Patrick's Day Party" from 1:30 p.m. to 1 a.m.

Guests can enjoy a special St. Patrick's Day menu with traditional Irish fare, such as Corn Beef & Cabbage for $13.99, Shepherd's Pie for $12.99, Mulligan Stew for $13.99, and Fish & Chips for $13.99. Drink specials include Bailey's, Guinness, Harp, Bushmill's, and green beer.

The party also features a mix of live Irish, pop and country music. Irish band Weatherglass kicks off the party from 1:30 to 4:30 p.m.; The Rakes perform from 5 to 9 p.m. with special guest Arvel Bird, a Celtic Fusion artist best known as "Lord of the Strings." Country duo George and Duane from the popular band Mogollon will perform on acoustic guitars and fiddles as the GD Roadshow from 9 p.m. to 1 a.m. Admission is free, but reservations are suggested.

Harold's is located at 6895 E. Cave Creek Rd. in Cave Creek. For information, call Harold's Cave Creek Corral at 480-488-1906 or visit www.haroldscorral.com.
MARCH 13, 2013
Golf-Fore-Charity tournament to benefit St. Vincent de Paul and other charities
Registration is still available for the event
CAVE CREEK – Golf-Fore-Charity is one of the most successful fundraising golf events in Arizona.

This year, the Golf-Fore-Charity event will be held on Monday, April 29 at Troon and Desert Highland Country Clubs.

Proceeds for the event benefit St. Vincent de Paul and local charities. Last year's event netted $208,000 – $160,000 for St. Vincent de Paul and $48,000 to other local charities.

St. Vincent de Paul's mission is to feed, clothe, house and heal families in central and northern Arizona. The organization provides healthcare to low-income patients, educational programs for children, a transitional shelter and over 3,100 meals a day to the homeless and hungry, among its many programs and services. The money raised last year for St. Vincent de Paul was the equivalent of 80,000 meals in its charity dining rooms.

The event will consist of a scramble tournament, a holes-in-one contest for $10,000 or a car, wine tasting and cooking demonstrations, silent auctions and a raffle drawing.

Several levels of corporate sponsorships and tee sponsorships are still available and auction item donations are welcomed. Foursomes are $1,000 and include the afternoon program for four guests and dinner for eight. The afternoon program and dinner (no golf) costs $50 per person.

For more information visit: www.golf-fore-charity.org.