BY LINDA BENTLEY | MARCH 6, 2013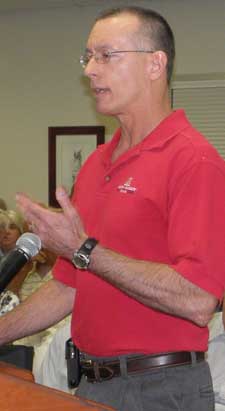 CAVE CREEK – On Sunday, Feb. 24, Councilwoman Shelley Anderson received a phone call from slate candidate challenger Mike Durkin (r).

According to Anderson, Durkin told her, "I understand you're having a candidate forum at your house."

Anderson said she was not having a forum but a meet and greet party.

Because Durkin, along with his fellow slate candidates, have accused the sitting council of perceived but unfounded misdeeds, Anderson said she had no desire to invite any of them to her home where she would be paying for the food and inviting the guests.

Anderson said Durkin was the only one of her neighbors she did not invite to her home for the mixer.

During their brief conversation, she said Durkin insisted he was entitled to attend, claiming it was a posted public meeting.

Anderson said it was not a public meeting but told Durkin she would look into the legality of her mixer and get back to him the following day. Her mixer was scheduled for Thursday, Feb. 28.

Apparently Durkin beat her to it having already called town hall on Monday morning himself.
This set off a firestorm with the slate challengers, who looked up all the courtesy notices and contacted everyone hosting meet and greet mixers, demanding to be invited to private parties in private homes.

Town Clerk Carrie Dyrek said she changed the format of the courtesy notices posted as a result, but said the notices were simply that, courtesy notices that a quorum of council, the planning commission or board of adjustment might be present, not notices of a public meeting and that no action would be taken.

Since Durkin contacted Dyrek directly, Anderson sent Durkin an e-mail saying she didn't feel it was necessary to call him back.

Durkin responded by saying he agreed she did not.

However, he then went on to say, "I think it is unfortunate for all 11 of us and particularly for the residents that things seem to have degenerated into a 'them and us' kind of situation. I believe I have successfully avoided hyper-bole in my remarks about the sitting council. I hope I have stuck to the facts …"

Anderson said the slate candidates have made it a "them and us" situation and it's all their own creation.

Durkin concluded his missive by stating, "I have spent many hours on the phone with residents. Most of them don't know what is going on but are interested and engaged when presented the facts. For the good of the town's future, this is the kind of dialog candidates should be having with residents. The present situation reminds me of Washington and frankly it makes me sick."

Anderson said Durkin brings the arrogance of the slate's campaign to new lows and stated the challenging candidates have fabricated all their accusations against the sitting council.

The mayor and council members attended Anderson's mixer, with only two or three members present at any given time. While it was not necessary, council members decided to attend at different times to avoid any remote appearance of impropriety.

Meanwhile, Reg Monachino has joined Durkin and Adam Trenk in the illegal use of their individual candidate committees to campaign either in favor of the slate of challenging candidates or against a group of incumbent candidates.

Dyrek said she has received numerous calls and e-mails regarding such campaign literature and has turned everything over to Town Attorney Marlene Pontrelli.