My View
MARCH 6, 2013
Vote YES for the current Cave Creek council
We are in the final countdown for the Cave Creek Council election, which will end on March 12. As of Feb. 28 about 900 ballots had been mailed to Maricopa County Elections.

Expectations are 2,000 or more will be returned so there is ample time to vote for the current council, which has served the town effectively.

One last time: Vote for Vincent Francia for mayor even though he is unopposed. For council, vote for Shelley Anderson, Ernie Bunch, Jim Bruce, Dick Esser, Steve LaMar, and Thomas McGuire.
It is clear a vote for the slate will be a vote for someone without the guts to run. That is Mike Chutz, the voter from Pennsylvania who wants to be the guy behind the curtain to control Cave Creek. Chutz who has lived part time here for less than two years has teamed with town dissidents.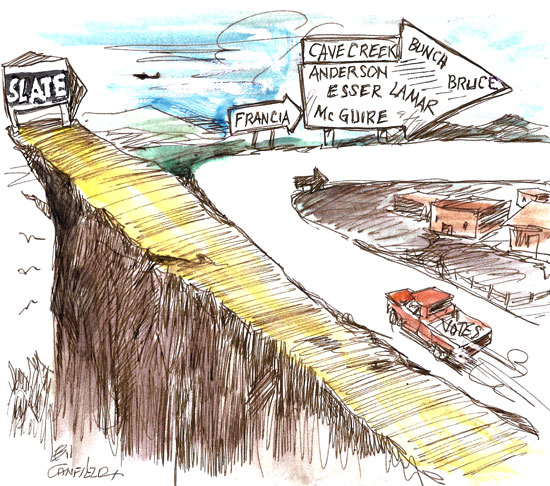 Chutz is the chairman of a political action committee (PAC) and he chose as treasurer David Phelps, who is also being touted as a mayoral write-in. The PAC has spent money in record amounts to try and buy votes.

Phelps has a background of causing the town misery. He was behind a lawsuit whereas he and a former town attorney conspired to have a bogus plat voted in. Ken Holmquist sued and it cost the town $1,200,000. He was a Global Water employee who sought to prevent the town's purchase of the water company. The Knolls subdivision had to threaten him for his actions as a neighbor and prevent his invasion of their property. Birds of a feather?

So these miscreants and Anna Marsolo, Grace Meeth, Terry Zerkle, Bob Moore and others of similar ilk would be part of the cabal that would instruct the slate of subservients to run the town to suit their strange views.

Adam Trenk wrote a "My Turn" in the Arizona Republic. He wrote, "After my term ended (the term he got from a lucky card draw), in an effort to save money before our wedding, I rented out my home in Cave Creek and moved to Scottsdale for about a year. I never changed my residency and always intended to return to Cave Creek, my home."
First of all to run for council one has to live here for at least one year immediately prior to the election date. Trenk didn't, but a friendly judge ruled that Trenk had intent to return so he could run. We will indentify that judge when judges are again voted to be retained. In my opinion he should be spanked for this over the top misuse of the judiciary.
Trenk says he first ran, "using money almost exclusively from family and friends out of state, so I would not be beholden to any local interests."
Yes he set a new local record by spending more than $20,000 of out of state money. As far as not being beholden to local interests he got the endorsement of union fire fighters who told me they supported him because he asked and because he sat on the fire advisory committee. When the union captain was reminded it would be a conflict of interest if he was on council, the captain shrugged. The move to involve unions is classic politics in New Jersey.
I was told by two people who were involved in supporting Walmart's establishment here that Trenk said he would vote for Walmart if they would contribute to his favorite horse rescue organization. After I printed that Trenk asked for a retraction. When that was printed by Linda Bentley several other people called and said they knew of the situation and it was as I stated. If true, and I can't imagine given their positions my sources lied, it would be a major conflict of interest.
Furthermore, in Trenk's column he mentioned leadership numerous times and claims he has it. Give me a break, after serving as CEO of four companies it was obvious leadership starts at age 35 and Trenk is wet behind the ears in comparison.
So although Trenk has tried to appear separated from the slate he is as imbedded as any of them and will be beholden to Chutz and Co.
By the explosion of campaign signs, robo calls, personal calls, flyers, advertisements and PAC office, the slate is clearly trying to buy the council.
We have a council which works hard and receives no compensation for their contributions except knowing they are doing the duty of good citizens. How could they be expected to spend thousands of dollars to be reelected? We provide steady and truthful reports of what happens in council meetings and report both in print and online. The people who are running as a slate are either the biggest liars in town or just ignore what is actually going on. They have set up false premises and straw men to try to slime their way into council. And if they do, the town will be lost in the wilderness.
I received a call from an angry council supporter who argued that the slate PAC office is a contribution in kind since the owner said he was renting the space for $250 per month when the prior tenant paid $600 per month. The person claimed the difference of $350 was a contribution in kind. I'll let the elections department sort that one out.
But the bottom line here is that a non-voter has decided to be an aggressive activist to deliver the dreams the dark side have always had which is decidedly dark, negative and out of step with reality.
A vote for any slate member is a vote for Mike Chutz who would giggle behind the curtain while he destroyed the gem that was Cave Creek. And his slate foot soldiers would answer "YES SIR" to his irrational demands. And don't forget Cave Creek has enormous value and somebody stands to profit handsomely for selling off priceless resources.
Don't let him do it. Send him and his worshippers to Pittsburgh and leave us alone.