BY MARIELLE D. MARNE | FEBRUARY 20, 2013
CAVE CREEK – You'll never find mass produced furniture at Out West. As such, the inventory is ever-changing. So, if you like to stand out, have home furnishings you won't see at your neighbor's, Out West Quality Upholstery and Interiors is the place for you.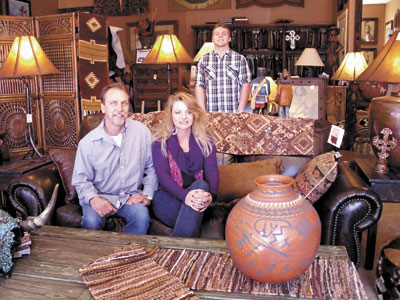 Robert and Beverly Sexton have been at their 38252 W. Jacqueline Dr. showroom since 2008, though they have extensive experience in home furnishings, Beverly with interior design, Robert with upholstery. They've been so successful with their furniture showroom, their inventory currently takes up all three suites. Shoppers love their unique items and Beverly offered, "All our customers tell us our prices are the best!" Part of the reason is the Sextons deal with local artists and craftsmen, so since no shipping costs are incurred, savings are passed on to clients.

The furniture is high-end, so it can be passed down for generations. Various woods – alder, mesquite, 100-year-old wormwood – make up the head- and footboards, tables, cabinets, credenzas; many are adorned with inlays – turquoise, saguaro ribs, desert twigs. And there are countless fabrics from which to choose. What you get are one-of-a-kind pieces that can fill an entire home ... or you can select a single, special item as a focal piece in one room. The possibilities are endless, and Beverly's design input is priceless if you're uncertain which way you want to go in your decorating. They'll even work out package pricing. (Don't forget wall accents and other accessories!) At Out West, you'll only find outstanding customer service.

Beverly and Robert encourage you to come in, spend some time browsing and ask questions. Explore their website as well at outwestinteriors.com. When you're ready to transform your home into high-class hacienda, call 480-575-8000.

Photo by Marielle D. Marne: Robert and Beverly Sexton, with son Zack, invite neighbors in to their showroom on W. Jacqueline Dr. "We want you to come in, look around and feel at home!"