BY MARIELLE D. MARNE | FEBRUARY 20, 2013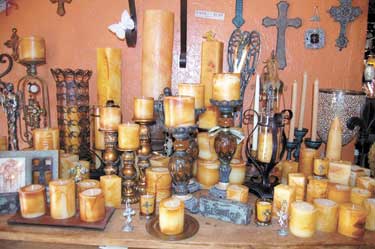 CAVE CREEK - Sometimes we may overlook a hidden gem right in our own backyard. Cave Creek Candles and Gifts in Frontier Town may be one of those treasures since it's not easily seen from Cave Creek Rd. Oh, it has its share of faithful followers, but it's too fun and unique not to be on everyone's go-to list, especially for candles.

It's a family affair, and customers immediately notice the warmth from the proprietors. On any day, Kim Reagen, along with her mom and dad, Jay and Joe, and even daughter, Jessica, may greet you. Before Jay and Joe moved to Arizona from Illinois, they would collaborate with Kim over the phone as to fragrances and wax consistency. Now, it's an art!

The best selling candle is chili pepper, scented with cinnamon spice. A cinnamon stick version of spicy clove is a close second. The fragrances seem endless, categorized by: foods, florals, aromatherapy. Not only are they a treat for the nostrils, they look exceptionally appealing. For instance, rose petals and lilac capsules meld within the wax, creating a natural and classy exterior. Candles are made of paraffin, soy or beeswax. They are all handmade, never coming from a "box cake mix." So customers get the most clean burning hours, a care sheet is given. "It's very important to trim the wick," Reagen emphasized.

In addition to square, column, votive, funky chunky (a dazzling mix of multi-scents) and special "Nane's Candles" crafted by Grandmom Jay, there are countless holders, luminary "sleeves" and spikes. Plus, bath items, wall adornments, essential oils and every item comes from as many local sources as possible! You'll never find "Made in China" stamped on any merchandise.
Make a beeline for Cave Creek Candles and Gifts at 6245 E. Cave Creek Rd., call 480-488-7799 or visit cavecreekcandles.com to light up your life!