BY LINDA BENTLEY | JANUARY 9, 2013
Court rules Trenk stays on ballot
'The court finds that, as a matter of law, temporary absence from a person's residence is insufficient to deprive him of residency …'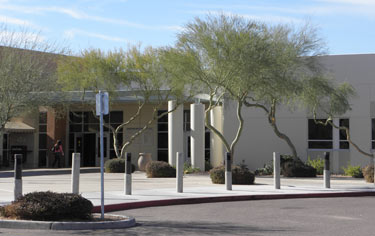 Following an evidentiary hearing in Maricopa County Superior Court at the Northeast Regional Center (above), Judge Michael D. Gordon denied the relief sought by plaintiff Robert Papineau to remove Adam Trenk from the ballot as a Cave Creek Town Council candidate. Photo by Linda Bentley


PHOENIX – Following an evidentiary hearing on Tuesday, Maricopa County Superior Court Judge Michael D. Gordon recessed for about 15 minutes before issuing his ruling denying plaintiff Robert Papineau's challenge to have Cave Creek Town Council candidate Adam Trenk removed from the ballot on grounds he did not meet the residency requirement.

Prior to the hearing, attorneys Tom Rawles, representing Papineau, and Tim LaSota, representing Trenk, were granted 10 minutes to stipulate to some of the facts in the case.

Trenk was grilled on the stand by Rawles, during which it was established that Trenk purchased a house in Scottsdale in February 2011, listed his home in Cave Creek on Highland Road for lease in March and leased it to Dominic Dovidio on July 1, 2011.

Trenk kept access to a portion of his property, including a room inside the home where he stored some personal belongings, the barn and a travel trailer that was parked on his property for about three months.

Trenk established the fact he lived in the Scottsdale home during the weekdays but stayed in Cave Creek on the weekends where he rode his horses and visited with his friends. He said he drank when he was in Cave Creek riding and spending time with friends so he liked to stay overnight rather than drive after he'd been drinking.

Trenk claimed he had to lease out his home on Highland because he ran into financial difficulties immediately after purchasing the home in Scottsdale and said the home in Cave Creek had a higher market value ($500 more per month) than his home in Scottsdale.

After purchasing the Scottsdale home, which he said was intended for his mother to stay in when visiting during the winter months from New York, he learned she had cancer and would need to stay in New York to receive treatment and wouldn't be visiting.

Trenk said he had no intention of leasing out the Highland Road house at the time he purchased the home in Scottsdale and always expected to return to the Highland Road home. However, he said the Dovidios asked for an addendum to the one-year lease for an additional year.

When asked what he moved into the home in Scottsdale, Trenk said he took his clothes and bedroom furniture. The rest of the home was furnished by his wife.

Rawles pointed out the Dovidios signed Trenk's candidate petition forms using the Highland Road address, indicating they had established residency there.

Meanwhile, in June 2012, Trenk purchased another home on Gunsight Road in Cave Creek, which he said he did because the Dovidios wanted to stay in his Highland Road house for another year.

Records indicate Trenk made a $63,000 down payment on that property.

According to LaSota, however, Trenk acquired the down payment money from a cash-out refinance on his Highland Road property.

Trenk also noted he and his wife received as gifts approximately $30,000 when they were married in November 2011.

A.R.S. §9-232(A) states, "A person shall not be a member of the city or town council unless, at the time of the election, the person is eighteen years old, is a qualified elector residing within the city or town at the time of the election, and has resided in the city or town for one year next preceding the election …"

While Rawles argued Title 16, dealing with electors, allows for temporary absences to maintain residency, it also states "for purposes of this title only."

LaSota argued if people weren't allowed temporary absences, they wouldn't be able to take a vacation and meet the residency requirement.

The other issue raised was the fact that Trenk's nomination paper left the date of the election, one of four statutorily required items, blank.

And while the form requires four specific items to be timely submitted, including the date of the election, Trenk said afterward that he and Councilman Steve LaMar both left that field, which asks for the date of the general election, blank. He also said other candidates entered March 12, 2013, the primary election date.

Following closing arguments, Gordon stated, "I can give you my ruling on the record in about a half an hour, maybe sooner … I've pretty much made up my mind," if the parties were willing to wait.

The parties were summoned back to the courtroom about 15 minutes later to hear his decision.
Gordon, a Napolitano appointee, issued a minute entry ruling later, elaborating on his courtroom decision, stating, "The court finds that, as a matter of law, temporary absence from a person's residence is insufficient to deprive him of residency when: (1) the absence is reasonably short in duration; and (2) that person intends to return."

He also noted that even though A.R.S. §16-101, which defines the word residency, "while not statutorily applicable" to A.R.S. §9-232, "nevertheless accurately defines that term."

Gordon decided Trenk's temporary absence from Cave Creek did not deprive him of Cave Creek residency and Papineau did not demonstrate by clear and convincing evidence that Trenk did not intend to return during the time period that that he was absent between July 1, 2011 and approximately May 8, 2012.

Gordon ruled Trenk is a qualified elector who resided within Cave Creek "for one year next preceding the election."

On the issue of Trenk failing to include the date of the election on his candidate nomination form, Gordon stated Trenk substantially complied and such a ministerial error does not render Trenk ineligible or unqualified for the position as a member of Cave Creek Town Council.

Papineau stated later that he will not be appealing the court's ruling.

It will now be up to the voters to decide if Trenk is qualified to be a member of Cave Creek Town Council.