BY LINDA BENTLEY | DECEMBER 12, 2012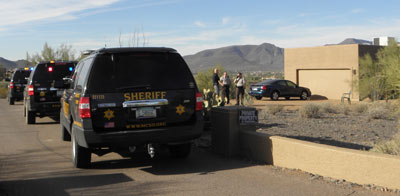 CAVE CREEK – Maricopa County Sheriff's deputies responded to a call last Wednesday afternoon at a home in the 6600 block of East Cave Creek Road where a domestic dispute was taking place.
BY LINDA BENTLEY | DECEMBER 12, 2012
'I hate to see the visual clutter. I don't see a need for it.'
RIO VERDE – The year-long petition drive to form a special taxing district for fire protection in the Rio Verde Foothills area ended in failure on Nov. 30.
BY LINDA BENTLEY | DECEMBER 5, 2012
Contrary to popular belief, depression and suicide rates do not rise around holidays
DESERT HILLS – Maricopa County Sheriff's Office was called to a home on north 16th Street near Maddock Road early Tuesday evening after a family friend discovered a 16-year-old male Sandra Day O'Connor High School student dead from an apparent self-inflicted gunshot wound.
BY LINDA BENTLEY | DECEMBER 5, 2012
Captain Rich Burden said he can't stress enough how important it is for people to call 911 as soon as they encounter any suspicious activity
CAREFREE – On Monday, Nov. 19, burglars hit a home in Carefree in the vicinity of Pima and Cave Creek roads. Although the homeowner was not home at the time, her daughter was in the guesthouse with her baby.
BY LINDA BENTLEY | DECEMBER 5, 2012
'[T]he constitutional right to carry ready-to-use firearms in public for self-defense may well not exist'

CHICAGO – On Tuesday, the Seventh Circuit Court of Appeals overturned the denials of declaratory and injunctive relief in two materially identical suits challenging an Illinois law, which forbids a person, with few exceptions mainly for law enforcement, hunting and members of shooting clubs, to carry a gun ready to use, in other words, loaded, immediately accessible, easy to reach and uncased.