OCTOBER 31, 2012
Triple R Horse Rescue expands Board of Directors
CAVE CREEK – Triple R Horse Rescue welcomes Terilynn Meeker, their newest board member.
Terilynn Meeker moved from Northern California to Arizona 12 years ago. She and her husband, Dave, live in the outskirts of Cave Creek. They share their home with two German Shepherds, three cats, and seven fish tanks filled with various fish.

In her business career, Terilynn is a senior commercial property manager. She is currently responsible for lease administration, facility,and property management for various medical buildings throughout the Valley. She oversees the medical buildings with the help of a team of dedicated employees. Her property management background includes a mixed use of medical, office and banking institutions which also includes one of the largest office properties in downtown Phoenix.

She has always had a passion for animals and is in heaven when spending time with them. She spent a couple of years looking for the right place to volunteer, and last January she was thrilled when she found Triple R Horse Rescue. Terilynn is a welcome addition to the Triple R family.

About Triple R Horse Rescue
Triple R Horse Rescue is a 501c3 non-profit organization based in Cave Creek, Arizona. Our mission is to rescue, rehabilitate and re-home horses in need. We are 100% volunteer run with our volunteers pouring their dedication and determination into providing daily care for all of our horses as they search for their forever home.



Adoptable Triple R Rescue Horse
Rebel is a 12 year old black gelding Quarter Horse. He is a handsome boy with a sweet disposition. Call Ken at 602-317-6176 if you are Rebel's forever human.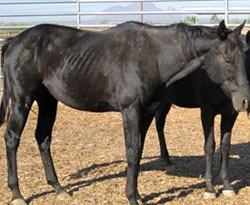 To see other horses available for adoption visit TripleRHorseRescueAZ.com.

Volunteers are needed for Wild West Days on Saturday, Nov. 3 and Sunday, Nov. 4. Some shifts are already filled so if you would like to volunteer or want more information please email: denise@triplerhorserescueaz.com

Triple R is in the process of filling the November/December schedule so please sign up on their Google calendar if you are able to take a shift at the ranch. Any time you can give would be appreciated.

To donate online visit www.formstack.com/forms/?1236398-SNFY6qkAtU

Contact Information:
Triple R Horse Rescue
PO Box 4925, Cave Creek, AZ 85327
602-317-6176
www.triplerhorserescueaz.com
ken@triplerhorserescueaz.com