BY COLIN WILLIAMS | RURAL/METRO FIRE DEPARTMENT PUBLIC INFORMATION OFFICER
OCTOBER 31, 2012
Great job firefighters!
CAREFREE – Recently the Cystic Fibrosis Foundation held its 32nd Annual Stairclimb and Firefighter Challenge. I am proud to report that a team representing Rural/Metro Fire Department in Carefree took second place in this important annual event.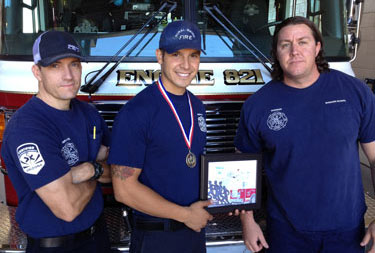 The team - Clint Dunning, Gabriel Ulibarri and Spencer Peters - employed brute strength, tactical prowess and unwavering endurance during their event. In the end, your local team finished second; nine tenths of a second behind another Valley fire department. Overall, 24 teams competed in a variety of physically demanding disciplines including a hose pack stair climb, obstacle course and sledge hammer evolution and a challenging dummy drag.

"Our Carefree firefighters did an amazing job this year. They represented themselves, Rural/Metro Fire Department and the Town of Carefree at the highest level. I know these guys will not settle for second place and are looking forward to taking it all next year," Fire Chief Dan Caudle remarked after the awards ceremony.

When you see Firefighter Dunning, Ulibarri and Peters out in the community, join Rural/Metro in congratulating them for a job well done.