BY PETE MOHR | OCTOBER 24, 2012
Meet the Falcon Football seniors ... Cody Fisher
Cody Fisher's senior profile follows below. His is the last of 17 senior profiles that have appeared in this newspaper beginning last July. I want to thank each football senior for their cooperation, their candor, and their good humor. Some of them I knew from past season. Most I did not. I have enjoyed getting to know you better. Thank you also for the autographed color photo you so thoughtfully sent me. It occupies a prominent place in my workspace. Thanks also to Coach Davis for providing your photos. And thanks to my "right arm," Rachel Karls-Gomes and football parent Ron Puryear whose assistance made these profiles possible. To each Falcon senior, every best wish for the remainder of your last CSHS year.
~ P.C.M.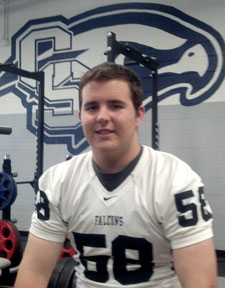 In my decades-ago high school days, Cody Fisher might have been called a "water boy." As a college sophomore, one of my roommates was known as a "student manager." For the 2012 Football Falcons, Cody Fisher, over the course of this regular season which will end Friday night, became much more. "Why?" and "How?" I wanted to learn, so I phoned up Coach Davis. In the Falcon football roster, Cody is assigned #58. But he never played a snap. In the first pre-season contact drill, he re-aggravated a retinal impairment and was done for the season. His eyesight vs. continuing to play football? Obviously, that decision was a no-brainer. Today, Cody hopes for a full recovery in his left eye. Every healing good wish to him.

Coach Davis: "Most times, when a player is lost for the season because of injury, they just disappear. We never see them again except on game nights. Not so with Cody. He's been at almost every practice, doing whatever Courtney (Runner) or I asked of him. And he's become our game statistician. Cody is a very important member of our team."

Not surprisingly, Cody shrugged off my regrets about his season-ending bad luck and my compliments to his team commitment. "When I got hurt (for the second time)," he told me, "I just put it behind me and kept on with my life." Why did Cody stick with the Falcons? For Cody, the answer was simple: "My brother (twin Alex, now also gone because of torn arm ligaments) was still out there; it was my senior season; so why not? I decided that I would try to do whatever Coach needed." Award Cody the football equivalent of a Purple Heart.

Cody Lee Fisher was born December 7, 1994 in Dallas, Texas. Brother Alex was birthed five minutes earlier. They are identical twin sons of Creekers Troy and Stephanie Fisher. Older sister Sarah, 26, lives in Mesa and is employed by an insurance agency there. The Fishers moved to the Valley in November 2000. The Fisher twins attended Desert Arroyo Middle School and started playing Youth Football as 8th graders. He and Alex have always been in the trenches. Both CSHS-lettered as juniors.

His favorite Falcon memory? As a freshman, against Paradise Valley, combining with Nick Molchan to make a crucial stop. Cody credits Cactus Shadows football with "developing who I am today." And, for a large part of his soon-to-be 18 years, he rates playing football with Alex as "pretty fun." Dad Troy has been his most important football encourager.

At Cactus Shadows, Cody lays claim to a 3.3 GPA; is Vice-President of D.E.C.A.; and sells advertising for "CS Press," the student newspaper, an effort he describes as "a real challenge." Cody is a wise young man: he hunts Gambel's quail – not girls. Outside the classroom, as a budding chemist, he researches radon (a gas) with his chemistry teacher, Mr. Robert Reisener. That last item of his resume tells you that when he's enrolled at ASU, Cody plans to major in chemical engineering.

But first, his Falcons will have to deal with Shadow Mountain, the fresh-talking team from last October. The 'Birds remember all too well the 70 points that the Matadors laid on them. Not to mention the postgame profanity directed their way by the victorious hosts. To the credit of Shadow Mountain's administration, running up the score and failing to control his team's conduct cost the Matador head coach his job. Keep your cool, Falcons!

"I finish what I start," Cody straightforwardly proclaims before we hang up. His determination and perseverance will serve him well.