OCTOBER 24, 2012
Desert Foothills Theater's "The Pajama Game" runs Oct. 25 – Nov. 4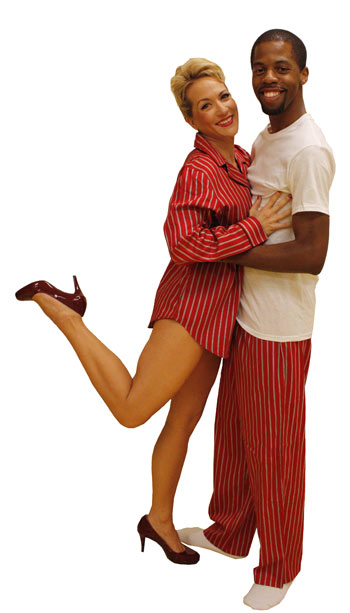 Kimberly Cooper-Schmidt (babe) and Matravius Avent (Sid) star in Desert Foothills Theater's production of The Pajama Game running Oct. 25 through Nov. 4 at Cactus Shadows Fine Arts Center in north Scottsdale.
Photo by Meribeth Reeves



CAVE CREEK – Desert Foothills Theater (DFT), a program of the Foothills Community Foundation, presents "The Pajama Game" set for Thurs., Oct. 25 through Sun., Nov. 4 on the Main Stage of Cactus Shadows Fine Arts Center, 33606 N. 60th Street, in North Scottsdale.

Emmy award-winning director/choreographer Dee Dee Wood returns to DFT to direct this Broadway classic. Bright and brassy, this unconventional, fast-paced Broadway favorite is every bit the embodiment of legendary director George Abbott at his very best. The energetic score by Richard Adler and Jerry Ross is brimming with songs and dances which have become popular and musical theatre standards, such as "Hey There," "Steam Heat" and "Hernando's Hideaway." The splashy show also includes a comic "dream ballet."

A Cave Creek resident who has been active with DFT for more than a decade, Wood came to DFT with the idea of producing "The Pajama Game" because she has always loved the music and because she knew it would be attractive to audiences of all ages. The show has special meaning to her as well. "When I was on Broadway performing in "Can-Can" at the Shubert Theatre, "Pajama Game" was playing down the street at the St. James Theatre. I had many friends in the show and so working on rehearsals now makes me laugh and brings tears to my eyes. It brings back incredible memories," she said.

Working with a cast of 20 brings challenges, but Wood said the best decision she made was to work with Michael Stewart as assistant director and Kat Bailes as assistant choreographer.
"And of course Dan Kurek is music director. I would never do a show without him," she said.

Stewart, a north Scottsdale resident, has been actively involved with DFT for more than 10 years and this show marks his fifth collaboration with Wood. "This is my first show as assistant director with her, but she has always been a collaborative spirit. In all the shows I've done with her, I've been able to contribute my thoughts and ideas and luckily she's liked most of them," he said.

What can audiences expect? "This show is just plain fun," Stewart said. "From the very first scene it just becomes a smiling, feel-good show. It's filled with a lot of comedy, heart and you better believe audiences will be singing some of these tunes for weeks after. And people will be surprised of the songs that are in the show. For those that have never seen it, they will love hearing familiar tunes that they had no idea were from "The Pajama Game." It will be a great time."

Performances are at 7:30 p.m. Thursday through Saturday and at 2 p.m. on Sunday. Tickets range from $15 to $30. Visit www.desertfoothillstheater.com or call (480) 488-1981.