OCTOBER 17, 2012
Thanks to sponsorship of Sanderson Ford and Sanderson Lincoln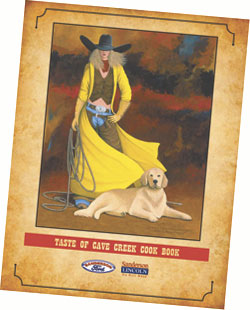 CAVE CREEK – Have you ever wondered how to make the famous Strawberry Shortcake from the Horny Toad or the sumptuous Cowpuncher's Smoked Corn Chowder from The Buffalo Chip?
This year, thanks to Taste of Cave Creek sponsors Sanderson Ford and Sanderson Lincoln, you can learn how to make these and other treats at home with the introduction of a new cookbook featuring the recipes of more than 20 area restaurants.

According to Rebecca Lombardo, a Cave Creek resident and Sanderson representative, the effort is a natural extension of the organization's dedicated community support.

The Taste of Cave Creek team from Sanderson Ford and Sanderson Lincoln includes Lombardo, Max Sirstens, Patrick Heigel and Jenny Kester, all who contributed their own personal time to make the event sponsorship a reality. Sanderson Ford and Sanderson Lincoln are well known for giving back to communities with such programs as Seats for Soldiers at Arizona Cardinals football games.

The cookbooks are only $10 and will be available at the Taste of Cave Creek, Wednesday and Thursday, Oct. 17 and 18 from 5 – 10 p.m. at Cave Creek's Stagecoach Village, 7100 E. Cave Creek Road. Following the event, the cookbooks will be available at Sanderson locations.

The Sanderson companies are also the sponsor of the Cave Creek Chili Cook-Off, an International Chili Society sanctioned event that will be hosted by KTAR radio personalities Tim & Willy, formerly of KMLE Country.

Tim and Willy will perform with the All Earl Band and with the Herndon Brothers on Wednesday. They will participate in the chili cook-off on both nights.

Proceeds of the cookbook and chili cook-off will benefit the Tim & Willy FunDation.

For information, visit www.tasteofcavecreek.com or for cookbooks, call Sanderson Lincoln on Bell Road at 602-375-7500 or Sanderson Ford in Glendale at 623-842-8600.