OCTOBER 17, 2012
Foothills Food Bank and Walk for 100 benefit events planned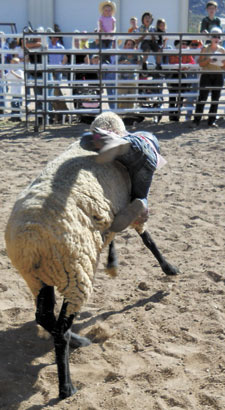 CAVE CREEK – Mutton bustin', a rip-roaring fast-paced western event that features kids trying to ride sheep to a finish line, will be held on Saturday, Nov. 3 at 11 a.m. at The Buffalo Chip Saloon, which is located at 6811 E. Cave Creek Road. The event is one of the highlights of Wild West Days.

Visitors will experience wildlife exhibits, western art, team horse events, mechanical bull riding, cowboy poetry and more. During Saturday's activities, one side of Cave Creek Road will be closed to vehicular traffic. Only wagons, horses and foot traffic will be permitted.

Sanderson Ford and Sanderson Lincoln, this year's Wild West Days title sponsor, along with representatives from the Foothills Food Bank & Resource Center, will collect canned and dry goods to benefit Foothills Food Bank. The Foothills Food Bank & Resource Center will set up at Sanderson's corral in front of the west lot of Frontier Town and there will be donation boxes at Harold's Cave Creek Corral, The Buffalo Chip Saloon and near the Sanderson Ford vehicles at the main arena across from the Horny Toad.

One of the signature events for Wild West Days is The Walk for 100 on Saturday, Nov. 3 at 9 a.m. The event is comprised of hundreds of horses and riders, along with service men and women on foot, walking in silence along Cave Creek Road in honor of peers who have fallen or become disabled in the line of duty. Participants also include veterans, first responders, first aid dogs and bagpipers.

The Walk for 100 will commemorate the spirit of the brave individuals who have given their lives in service. Wild West Days, working in conjunction with The 100 Club of Arizona, will provide sponsorship dollars to benefit The 100 Club and service men and women. The cost for entrants in the Walk for 100 is $15.

Following the walk, about 11 a.m., people are encouraged to attend a chili cook-off at the American Legion Post 34, which is located at 6272 E. Cave Creek Road on the western end of Cave Creek.

Persons interested in sponsoring or participating in the event may download forms and information at www.WildWestDayscaveCreek.com or call Patty Pollnow at 480-204-0140.

The Wild West Days 2012 Charity Golf Tournament is Tuesday, Oct. 30 at Rancho Manana Golf Club. A round of golf at Rancho Manana, Scramble Format, Betting Hole, Win a New Car for a Hole in One, Closest To The Pin Prize, Longest Drive Prize, and more. Golf entry fees: $125 Individual $500 Foursome, $100 Hole Sponsorship. Non Golfing Dinner Guests: $20. Post Tournament Dinner (6 p.m.), Raffle and Live and Silent Auction follow at Harold's Corral Buffet includes prime rib, herb roasted chicken, baked ziti and more. Help raise money for the American Cancer Society.

Register early! Pay for your foursome/dinner online at www.WildWest DaysCaveCreek.com or fax to 480-237-6039.

Wild West Days activities include:
• Gun Down by Sundown
• Cowpokes 'n Little Folks: A western play land for kids and families featuring pony rides, performances by Detour Company, stunt training for youngsters and more.
• Walk for 100 (Saturday during the parade): Hundreds of firefighters, police and service men and women on horseback and on foot walk in silence to honor and pay tribute to colleagues who have fallen in the line of duty.
• Western parade (Saturday, 9 a.m.): Numerous non-vehicular entries bring the true spirit of the west to Cave Creek visitors
• Bathtub races (Saturday): Homemade bathtubs race down the street for the grand prize
• Pig races (Saturday): Pigs race as fast as they can to show their personal best to festival visitors
• Arizona Cowboy Mounted Shooters Associa-tion: See the multi-talented mounted shooters race on championship horses while shooting at targets
• Wild West bull fest – live bull riding competitions
• The Cowboy Gathering: Meet Arizona's top cowboys and historians
• Headlining country music at many locations throughout the town
• Brandi Lyons: The renowned horse trainer demonstrates a horse's success before it is auctioned

Wild West Days is an annual experience hosted by the Cave Creek Merchants & Events Association, a non-profit business-to-business entity that serves the businesses and organiza-tions of Cave Creek. A portion of the proceeds from the event will benefit charitable organizations in community to help to preserve the community's Western heritage.

A comprehensive list of scheduled events and activities will be updated at www.wildwestdayscavecreek.com.