OCTOBER 17, 2012
11 a.m. – 1:30 p.m. Friday, Oct. 19 in Carefree Town Center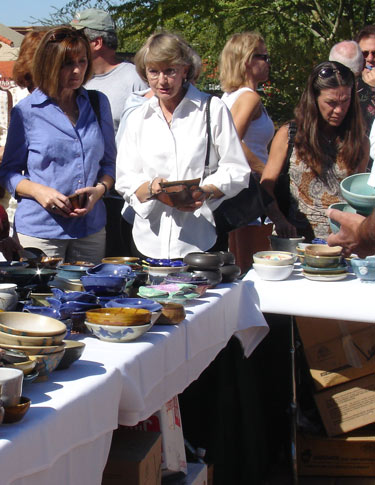 CAREFREE – The twelfth annual Foothills Empty Bowls Event to honor World Hunger Day will be held at the Carefree Town Center on Friday, Oct. 19, from 11 a.m. to 1:30 p.m.

Lunch, prepared by Carefree Resort & Villas, will be served in handmade ceramic or glass bowls. For a minimum donation of $15, guests can select their own unique bowl, made by members and friends of the Sonoran Arts League, and keep it as a lasting reminder of world hunger.

All proceeds from the lunch are donated to the Foothills Food Bank & Resource Center, and will support their ongoing effort to provide emergency food and services to area families in need of assistance. For more details, call the Foothills Food Bank at 480-488-1145 or visit www.foothillsfoodbank.com

Sponsored by: Sonoran Arts League, Town of Carefree • Carefree Resort & Villas, Marjon Ceramics & Laguna Clay.

Appreciation to donors: Bashas', Costco, students of Saguaro and Cactus Shadows high schools, Sonoran Trails Middle School, Arizona Clay, PVCC ceramics students, and the many local potters who made and donated the bowls.