OCTOBER 3, 2012
Whiskers & Wine lights up Pinnacle Peak Plaza
Community steps out for wine event with adoptable animal parade – in costume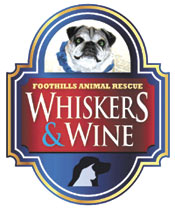 Foothills Animal Rescue (FAR) welcomes fall by hosting a new way to enjoy your favorite vintage; watching adoptable animals parade by in costume. Whiskers & Wine includes wine, appetizers and desserts from local vendors, a cigar station, a wine-themed silent auction, and, of course, an adoptable animal parade with animals dressed up for the season! The event will take place on Oct. 11, 2012 from 5:30 - 8:30 p.m. at Pinnacle Peak Plaza on the southwest corner of Pinnacle Peak and Pima Road in Scottsdale, and has already attracted many long-time volunteers to help organize the event.

"Whiskers & Wine is all about raising funds for the Rescue," said Whiskers & Wine chair Kathy Gaines. "Every dollar raised is going towards helping the animals we take in and ultimately see reach loving homes they can count on for the rest of their lives."

In early 2010 FAR purchased a new facility in north Scottsdale. This facility provides spacious cat rooms and individual dog suites and a medical clinic housing incoming animals and animals requiring medical care. Larger dogs are fostered in private homes. A Resale Boutique assisting in the support of the rescue is located in a separate building on the property.

"We'll have wine, cigars, and the Cactus Shadows Jazz Band everyone talks about," said Vice-Chair of Whiskers & Wine, Robin Kilbane.

To purchase tickets to Whiskers & Wine, visit www.foothillsanimal.org.

Foothills Animal Rescue was founded in 1995. FAR is committed to compassionate and humane treatment of dogs and cats in need through rescue, shelter, fostering and adoption within Maricopa County.
OCTOBER 3, 2012
Animal Guardian Network
Animal Guardian Network (AGN) is a valuable community resource dedicated to saving animals and keeping pet families together. AGN works directly with Maricopa County Animal Care and Control as they have the unique ability to take in, provide veterinary care for and rehabilitate some of the most critical cases such as animals that have been injured, abused or severely neglected.

AGN also offers programs and services necessary in keeping pet families together. Programs include a Pet Food Relief Bank for the pets of low-income seniors and Veterinary Care and Assistance for non-routine veterinary care just to name a couple.

For more information, to support their efforts or to learn about volunteer opportunities call 623-780-1604 or e-mail info@animalguardiannetwork.org.