SEPTEMBER 26, 2012
Get your most festive trout fishing hat ready
The seasonal trout fishery at Silver Creek opens Oct. 1
"The opening has become a fun fishing get together," said Hatchery Manager Ken McGown.
"The cadre of opening day participants seems to grow each year."

McGown said the fishing staff from Cabela's will be on hand to help out, just like in years past. Also once again this year the Wounded Warriors from Ft. Huachuca will be attending opening day.

"The anglers themselves have turned this into kind of an informal opening day fishing festival of sorts," McGown said.

There will be both Apache trout and rainbow trout stocked again this year, with some fish tipping the scales at more than 3 pounds or so.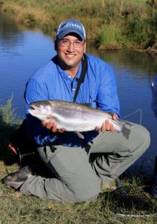 However, don't expect to take anything home but smiles and memories – this seasonal fishery is catch-and-release only.
Silver Creek is five miles east of Show Low on U.S. Route 60. Turn north off Highway 60 onto Bourdon Ranch Road for five miles to Hatchery Road.

hen east on Hatchery Road 1 mile to the Silver Creek Hatchery, park in the parking lot, and follow the signs to the creek.
Remember that trout from this seasonal fishery must be immediately released unharmed – no trout may be kept. It is artificial lure and fly only with barbless hooks. The catch-and-release season is Oct. 1 to March 31.

Besides being a seasonal fishery, Silver Creek does have another unique quality – because the creek is spring fed and stays at a constant temperature it is not subject to freezing, which provides anglers a nice high country trout fishery to visit during winter.