BY PETE MOHR | SEPTEMBER 26, 2012
Bryce Kinsler is Cardinals' high school "Player of the Week"
Kyle Gladstone ties CSHS single-game receiving mark
Last Sunday afternoon, much to the delight of the American Humane Society and P.E.T.A., the Arizona Cardinals slaughtered Michael Vick and the Philadelphia Eagles, 26-7. The game wasn't even a birdfight! Cardinals went to 3-0 in the young season. Big football new nationally, confounding all the ESPN chick anchors – and male "expert" analysts.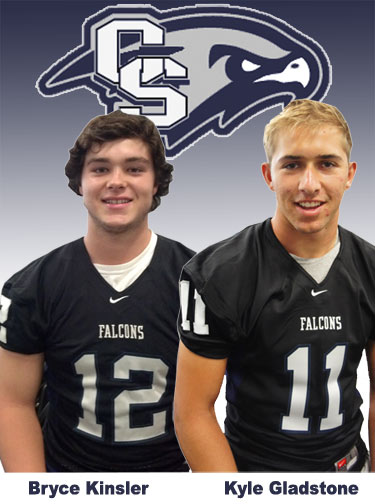 Earlier this week, the Cardinal organization announced the selection of Falcons' quarterback Bryce Kinsler as high school "Player of the Week." In the Desert Foothills, that's big football news. Kinsler will be recognized by the Cardinals at a Cactus Shadows presentation at a date to be determined.
The Cardinals will present Kinsler with a plaque commemorating his achievement. Head football Coach Greg Davis: "All of us – coaches and players – thank the Cardinals for this supportive recognition."

Last Friday night, Sept. 21, at Prescott, Kinsler completed 37 of 60 passes for 639 yards and six touchdowns, establishing a new Arizona High School record for passing yards in a single game. The previous record of 595 yards was set in 2008 by Kevin Pantastico of (Tucson) Desert Ridge. Kinsler to Sonoran News: "I'm honored by, and greatly appreciate, this "Player of the Week" award from the Cardinals. I'm proud to share it with my offensive line and my receivers. They made my award possible."

"All of the above" is the "good news." The "bad" news is that the Homecoming Badgers win the football track meet, 63-49, handing the Falcons their fourth loss (second in Division 2) of this season. But in the defeat, Quint-Captain Kyle Gladstone caught 13 of Kinsler's passes for 271 yards and three TDs. Gladstone's performance tied the previous CSHS single-game record posted by Kyle Watkins (CSHS '07), recorded in the Falcons' State Championship 28-14 victory over Higley in 2006. Falcon fans will long remember "The Wild Horse" as one of the most outstanding players in Cactus Shadows' football history. Kyle, you've joined select company!

This Friday evening, CSHS travels to Barry Goldwater High School in north Phoenix for a 7 p.m. kickoff. In 2011, at home, the Falcons defeated the Bulldogs, 28-21. The 'Birds are big time needing their second win.

Sonoran News congratulates Quint-Captains Bryce Kinsler and Kyle Gladstone.