SEPTEMBER 26, 2012
Maricopa Regional Trail celebrates milestone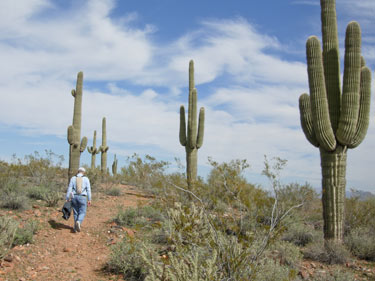 The Maricopa Regional Trail development project reached a major milestone this month – having completed the midpoint in the construction of 421 miles of trail that will link the county's ten parks and provide miles of hiking, mountain biking and equestrian trails across the county.

The trail has been more than a decade in planning and in construction and, once completed, will link all ten Maricopa County parks surrounding Phoenix and its suburbs. It will provide challenging, longer trails for competitive hikers and mountain bikers seeking back-country experiences outside the urbanized park systems. The trails between Cave Creek and Lake Pleasant are already being used for hikers training to cross the Grand Canyon rim-to-rim.

"This project will be a great legacy for our children and our children's children," commented Supervisor Andy Kunasek, who served on the Trail Commission for several years and guided its master plan. "I see this project as a 'Pathway to the Parks,' where you can experience the desert from the San Tan Mountains to the McDowells and Lake Pleasant to White Tank and South Mountains."

Much of the most recent trail work has been completed in the San Tan Mountain Regional Park connection from Gilbert.

The trail is being knit together by obtaining or purchasing right of way from other jurisdictions, identifying and securing easements on canals, parks and utility corridors. Then a private contractor builds four-feet wide trails through the desert terrain. An additional 59 miles will be constructed by July 2013, mostly in the McDowell Sonoran Preserve and Tonto National Forest. The funds come from the county's general fund, with an estimated $2.3 million remaining for the next four fiscal years.

"The effort is a real tribute to the parks department," Kunasek said. The trail system eventually will build out to 1521 miles across the county land area.

The effort has required cooperative agreements with Phoenix, Scottsdale, Peoria, Cave Creek and Guadalupe, the Tonto National Forest, the Maricopa County Flood Control District and Salt River Project. "This has been a complicated, laborious process to assemble and build and to be on schedule is quite an accomplishment," Kunasek said, crediting the Maricopa County Parks Department Director R.J. Cardin and his staff as well as other cooperating agencies.

Cardin called the project "exciting," but said the parks department cannot maintain the trail system with just its own maintenance funds. "We are seeking volunteers from both the community and local businesses who can donate time and other resources to help maintain the trails," Cardin said.

Maps for the completed segments of the Maricopa Regional Trail system can be found at www.maricopa.gov/parks/MaricopaTrail/.