SEPTEMBER 19, 2012
Brandi Lyons to perform during Wild West Days, November 2-4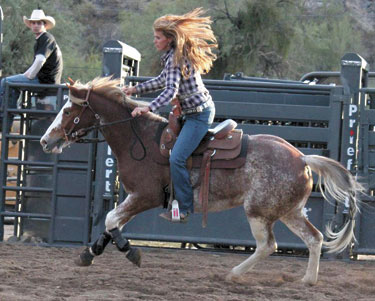 CAVE CREEK – Brandi Lyons, world class Arizona horse clinician and trainer, will provide demonstrations during Wild West Days, Arizona's largest western venue, on Saturday, November 3 at 2:45 p.m. in the main arena on Cave Creek Road.

Lyons, the daughter of America's Most Trusted Horseman and the founder of Lyons Horsemanship Clinic, teaches riders the theories behind horse training. Her students learn why horses do the things they do and how to use the knowledge to develop more willing and happy horses. Lyons helps students understand how to have control of each body part to improve the ride. She also helps women riders who are intimidated by large classes and feel more comfortable working with another woman.

Other exciting Wild West Days activities include:
• Cowpokes 'n Little Folks: A western play land for kids and families featuring pony rides, performances by Detour Company, stunt training for youngsters and more.
• Walk for 100 (Saturday during the parade): Hundreds of firefighters, police and service men and women on horseback and on foot walk in silence to honor and pay tribute to colleagues who have fallen in the line of duty. The events winds up with a western cowboy church and breakfast at the Buffalo Chip.
• Western parade (Saturday, 9 a.m.): Numerous non-vehicular entries bring the true spirit of the west to Cave Creek visitors
• Bathtub races (Saturday): Homemade bathtubs race down the street for the grand prize
• Pig races (Saturday): Pigs race as fast as they can to show their personal best to festival visitors
• Headlining country music at many locations throughout the town

Wild West Days, now in its 10th year, is an annual experience hosted by the Cave Creek Merchants & Events Association, a non-profit business-to-business entity that serves the businesses and organizations of Cave Creek. A portion of the proceeds from the event will benefit charitable horse and other related organizations in community to help to preserve the community's Western heritage. A comprehensive list of scheduled events and activities will be at www.wildwestdayscavecreek.com.