BY LINDA BENTLEY | SEPTEMBER 19, 2012
While resolving APS issues, why not take on the feds?
'Any time you can poke the federal government, what the heck'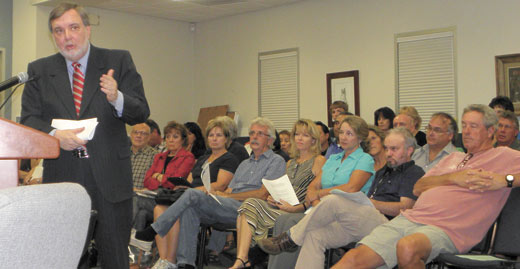 Town Attorney Gary Birnbaum explained to the packed council chambers why it was important for the town to pass a resolution taking a position on the APS 69-kV line siting project. Photo by Linda Bentley


CAVE CREEK – During Monday night's meeting Mayor Vincent Francia said he would be speaking before the Soroptomists the following day about Cave Creek's financial situation. Noting construction was down 11 percent but retail was up by 220 percent, attributing both factors to Walmart, he said, "We're doing OK."

He also reminded everyone a Taste of Cave Creek was coming up Oct. 17 and 18.

During Call to the Public, Robert and Debra Peterson, who live immediately to the north of town hall, pleaded with council for help regarding the culvert on Paseo Dulce, which they claimed has caused thousands of dollars in damages to their property.

When Francia suggested they make an appointment to speak to the town manager, they said, "We've spoken to the town manager" but received no response.

Stating Debbra Determan was unable to attend the meeting, Cynthia Driskell from Carefree Physical Therapy appeared before council to declare Wednesday, Sept. 26 Fall Prevention Day at the Holland Community Center.

Getting down to the main event of the meeting, which brought a packed house to the council chambers, was Town Attorney Gary Birnbaum to explain the purpose of council passing a resolution regarding the APS 69-kV power line siting project.

Birnbaum stated A.R.S. 40-360 provides APS with broad authority and because the proposed project is under 115-kV, APS has sole jurisdiction over the project, not the Arizona Corporation Commission.

He explained the four-step process, beginning with a newsletter in which APS identifies the study area, schedules meetings, obtains public input and explores alternate routes.

The second phase, which APS has also completed, identifies alternate routes on a map in a second newsletter.

Birnbaum stated, "This is where APS is today," and said there are two steps left.

He said APS will select a specific route or preferred route, make its selection and send out a third newsletter.

The fourth step will be the construction schedule.

Birnbaum said, "The reason for the resolution is – now is the time, the only time – to say here is what we'd like to do. My only suggestion is, do something. Otherwise APS will do what it prefers to do based on input from other municipalities."

While fielding questions from the audience, Birnbaum said the resolution was careful to not suggest an alignment that encroaches on another municipality.

He said APS does not have to underground lines and pointed out that APS has a very unique position in municipal law as a quasi-municipal corporation with the power of eminent domain.
However, Birnbaum stated, while APS has the power of eminent domain, it does not have the power to take immediate possession, which could cause delays, but there is no question of authority.

Francia explained it would cost $10 million to underground 3.4 miles along Carefree Highway, the shortest proposed route, where no poles currently exist.

Birnbaum responded to questions as to whether affected homeowners could receive compensation by saying Arizona law only allows property owners to collect severance damage but mere proximity damage is not compensable.

A property owner said he would like to see in the resolution that APS provide a 3-D visualization of what these power lines will look like from their properties.

Birnbaum said APS has done that many times before and stated it did not need to be in the resolution and is probably something APS would do just by asking.

Pointing out there has been a lot of activity in condemnation during the last year, Birnbaum said, "Land is cheap today. Now is the time to acquire property."

During public comment, Attorney Carol Lynn de Szendeffy, on behalf of her client Rancho Verde Del Rio on Basin Road, said her client didn't receive any newsletters or information about the power line project.

She said her client, at the town's request, buried its utilities at a cost of $80,000.

And, since the resolution proposes a change to run the lines to Cave Creek Road from Basin Road rather than Skyline Drive, a change only proposed two weeks ago, de Szendeffy said her client wasn't provided the same opportunity to provide input as others.

The mayor moved to approve the resolution and stated, "This is not a final step. I wish it were. The community needs to have its voice heard."

Francia also credited Vice Mayor Ernie Bunch and Councilman Dick Esser for "working in the trenches with me on this."

Responding to an earlier suggestion by neighbors that the entire substation be moved to the wastewater treatment plant site, Francia said APS turned down that suggestion, calling it "problematic," which Francia said usually has to do with cost.

Francia said, "The APS people have been very polite with me and listened to ideas," and stated the purpose of designing the resolution was to spare the five neighborhoods.

He said he was meeting with the person at APS next week who makes the decision.

Ernie Bunch told the audience, "I feel a lot like you guys do when we do something you don't like."

With Councilman Thomas McGuire still on vacation in Hawaii, council voted unanimously in favor of the resolution.

Council unanimously approved a 3-way lot split application for Charles Lewis for a parcel that is a little over two acres in an R-18 zoning district.

Bunch introduced the next agenda item, a resolution requesting that the EPA, the Maricopa County Department of Air Quality and any other government agency that may be involved to exempt the town of Cave Creek from being required to enforce regulations for Maricopa County's Area A Fugitive Dust and PM-10.

He said he's been annoyed ever since the town was forced to pass a resolution in 2008.

Since the EPA's response to the mayor's letter in 2008 said the boundaries were established by the state, and Speaker of the House Andy Tobin and Senate President Steve Pierce indicated it was the EPA, Bunch said, "We're asking them to look at it again."

Bunch said he wanted to get Cave Creek out from under the federal government's one-size-fits-all regulations.

Councilman Jim Bruce said he thought it was "silly" but stated, "Any time you can poke the federal government, what the heck."

As council voted unanimously in favor of the resolution, Francia commented, "If we can take on APS we can take on the feds."

Council unanimously recommended approval for a #12 Restaurant Liquor License for Heaven's Kitchen, which will be opening across the street from town hall at the former location of Los Mesquites Tacqueria, as well as an extension of premises application for Big Earl's Greasy Eats for liquor storage.

Planning Director Ian Cordwell received unanimous approval from council to apply for a recreational trails grant, which he said would allow the town to acquire easements that are key components of the Cave Creek Bike Fest.