BY PETE MOHR | SEPTEMBER 19, 2012
Football Falcon senior … Kyle Hajek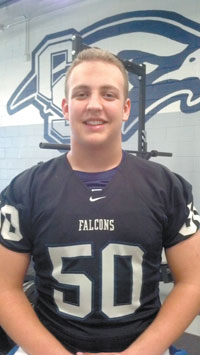 "There's strength in numbers." True in high school football, too. This issue's senior profilee, Quint-Captain Kyle Hajek, informed me in our interview last Sunday night, that the Falcons had suited up only 25 varsity players against Queen Creek, Friday evening, Sept. 14. I don't care if Coach Greg Davis were the second coming of Vince Lombardi, and each of his 25 Falcons played with the intensity of Dick Butkus, it's next-to-impossible to win with a 25-man roster.

Those 25 Falcons got walloped by the visiting Bulldogs, 40-8. For the third consecutive home game, the 'Birds laid a rotten egg in "The Nest." Only a last possession touchdown pass from R.J. Anderson to Connor Folts, followed by Mike Thompson's P.A.T. ram for two, saved Cactus Shadows from being shut out. Way too little, way too late.

To compound the disappointing loss, the Falcons (and Coach Rika Cuff's cheerleaders) were the featured guest team on Bruce Cooper's popular "Friday Night Fever." That postgame trip to Channel 12's downtown Phoenix studios had to be embarrassing after an 8-40 whipping. Kyle Hajek has a different take, "For us," he solemnly told me, "I think it was a 'wake-up call'. I believe we're finally ready to play with a sense of urgency." Hey guys! To the aforesaid "sense of urgency," how about adding a large dose of "pride?" It's not too late to turn your season around – starting this Friday night at Prescott. The game will be the Badger's Homecoming main event. Spoil it, 'Birds! Now, rightfully, to Kyle Hajek.

The 6' 1", 225 lbs. Falcon center is hoping the team will focus on one goal: "execution." Kyle observes, "We've really hurt ourselves by too much individual play. I think we've got to start paying attention to the assignments our coaches have given us. It's time for us to stop the freelancing." I'm sure Coach Davis would second that motion.

Kyle's been in the "O" line "trenches" ever since he began playing Youth Football as a 6th grader. The Falcons' next six games (plus, hopefully, the State Playoffs) will be "it" for his football. Following his CSHS graduation next May, Kyle plans to attend Phoenix College for two years, then transfer to NAU where he'll major in sports medicine. Kyle is looking to become a physical therapist. But chronologically, I've leapt ahead of Kyle.

A native Arizonan, Kyle Matthew Hajek was born in Phoenix on December 15, 1994. He is the only son of longtime Creekers Dale and Karen Hajek. Valley readers have enjoyed Dale's sportswriting in the Scottsdale Republic, where he's now a "platform manager" (editor). Kyle warmly acknowledges, "My Dad has always been my biggest fan." He enjoys remembering that it was at Dale's spur-of-the-moment encouragement that first headed Kyle toward Youth Football registration. Dale doesn't miss many Falcon practices. He is one proud – and involved – father.

Kyle's younger sister, Kelly, 15, is a two-sport varsity athlete at Cactus Shadows: an infielder for Coach Danica Gianni's Softball Lady Falcons and a setter for new Volleyball Head Coach Michelle Gardiner.

Last season, Kyle earned (at "o" line right guard) his first varsity CSHS letter, sometimes relieving Saul Monteon, CSHS '12, at center. Kyle has embraced center as his "home position," relishing the snapper's "greater responsibility." He plays football "for the love of the game" and the fellowship of being a member of the Falcon Football "family." His goals for this season are pretty simple; "Give 100% effort to being the best player I can." And Kyle is still a "believer" that the Falcons can earn a 1st Round State Playoffs home game.

Depending upon Friday afternoon traffic on I-17 and AZ 69, it should take the Falcons right at 90 minutes to reach Prescott. Plenty of time to decide which Falcon team will show up to take on the Badgers: the thus far underachieving at-home freelancers? Or the near-perfect road warriors they were at Bradshaw Mountain? I know which team Kyle Hajek will choose. He's proud to be a Falcon captain. And proud is the only way he knows how to play.

BY AL HORN, OFFICIAL SONORAN NEWS VOLLEYBALL DAD | SEPTEMBER 19, 2012
CSHS "Power Princesses" of Volleyball
What is the result of putting together a group of female athletes and a coach with an "insane" love for the sport of volleyball who not only has state and national play and coach time, but International Competition … Professionally!!

This is our new Head Coach and we are very grateful for her presence and leadership.
The result of this leadership and our girls' undying love for the sport is our Cactus Shadows Girls Volleyball team – lead by Mrs. Michelle Gardiner (Asst. Coach Justin Baker) and a host of outstanding coaches for our JV (Coach Taylor Stallman) and Freshman (Coach Corey Davis) teams. We have many years of great athleticism ahead of us to watch and enjoy!

From the tallest players to the shortest players, you will not find a glitch in their talent, whether it be passing, setting, hitting or that little dinker that's dropped in the space right behind the opponent.

Their record to date is 12-3, including a First Place Medal in the Silver Bracket at the Westwood High School Varsity only Tournament.

Excited? Yes! Working hard every day? Yes!

To date they have beat in official play Sandra Day O'Conner, Shadow Mt., North Canyon, Sunnyslope, Boulder Creek, Barry Goldwater and Camelback High Schools. They had the honor of playing Sunnyslope HS on Sept. 4, 2012 and were victorious. Did they blow away last year's regional champ? No, but they won and then beat them again at the Westwood Varsity Tournament Sept. 7 – 8.

After speaking to the players on a team bonding outing done every Saturday, I found the team to be incredibly humble and willing to take the next step to learn a new technique. The truth is Coach Gardiner will gladly help them with the next step as her vision of the long term for the players is a phenomenal gift.

The team is constantly focusing on conditioning and stamina. Of the games they have won, along with their playing ability, their conditioning has been the gift.

The team looks forward to you coming to watch the Cactus Shadows Lady Falcon "Power Princesses" in action Thursday, Sept. 20 at home with Mingus visiting. Game times are 4, 5, and 6 p.m. If you can't make this one, be sure to attend Tuesday, Sept. 25 against Notre Dame.

Editor note: We applaud and sincerely thank Al Horn for stepping up to share the great success of the CSHS Girls Volleyball Team and Ron Puryear for his tireless dedication to CSHS Football coverage!