BY MARIELLE D. MARNE | SEPTEMBER 19, 2012
Out with the old logo, in with the new, but AC by J remains tried and true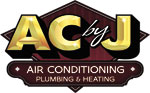 Everyone loves a makeover! But sometimes a new look confuses folks. The air conditioning and plumbing professionals at AC by J want to assure customers that despite their recently updated logo, they are the exact same company - no new ownership, no new management, same terrific employees; AC by J remains the A+ BBB-rated business it has been since accredited in 1985. Call with confidence and know the work will be done timely and competently.

With all the warnings offered about driving in dust storms, note they show no mercy on heating and AC units. Currently, AC by J is running a $59.95 (per system) fall tune-up. Dust coating an AC unit's coils is detrimental. It reduces efficiency and costs more to run. And yes, it certainly helps to hose the coils yourself (refrain from using any detergents or a high pressure washer), but the AC by J specialists will chemically clean and thoroughly inspect your system, plus offer a lifetime warranty on your thermostat. Save money, assure an optimally running unit, guarantee year-round comfort, all for less than $60! See details at www.dialcomfort.com.

If you've failed to heed the warnings about HVAC maintenance and your unit fails, AC by J can help! The team is available 24/7, even holidays. If you mention their be-there-within-three-hour promise and they exceed that time, the diagnostic charge is waived. Because they care about their neighbors valley-wide, they've never missed a deadline.

Remember, APS and SRP continue to offer rebates for ductwork inspection, and as a select contractor, AC by J can take care of that, too.

Call AC by J at 480-422-4335 for your HVAC and plumbing needs.