BY PETE MOHR | SEPTEMBER 12, 2012
R.J. Anderson, Defense win Game Ball Awards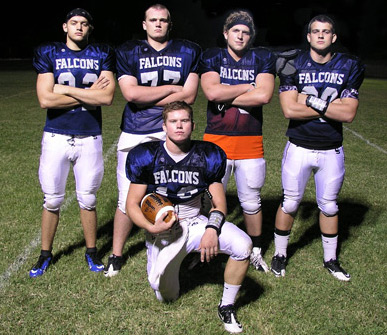 After the Falcons laid a 56-0 shutout on (Prescott Valley) Bradshaw Mountain, Friday, Sept. 7, with their "D" holding the homestanding Bears to only 80 yards total offense, Head Coach Greg Davis praisingly awarded the "O" game ball to running back R.J. Anderson, and the "D" game ball to four defensive linemen. Anderson (kneeling) scored four TDs (three rushing, one INT runback). He immediately shared the award with his "O" line blockers.

Front four winners (standing, l-r): DE Andrew Stephens, DT Nick Molchan, DT Brad Souva and DE Mike Thompson. The 'Birds will be fired up to chain the 3-0 high-scoring Queen Creek Bulldogs at Falcon Stadium this Friday, kickoff at 7 p.m.

Photo by Ron Puryear
Sept. 7 Game Summary
Last Friday night, Sept. 7, Cactus Shadows defeated Bradshaw Mountain 56 - 0 on homecoming at Bradshaw Mountain.




Cactus Shadows Stats:
#12 Bryce Kinsler was 15 for 26 for 204 yards, threw 2 TD's with no interceptions and ran for another.

#10 RJ Anderson ran for 174 yards on the ground stacking up 3 TD's and another on an interception in the 4th quarter for a combined 4 TD's on the night.

#13 Joe Kuhlmann had 6 catches for 50 yards, a TD on the ground and another in the air from #12 Bryce Kinsler.

#11 Kyle Gladstone had a breakaway 61 yard TD catch and run.

#23 Matt Hartlen had 4 catches for 38 yards.

The Cactus Shadows offense would grind out 419 yards on the ground and in the air, much of that coming in the first 3 quarters. Coach Davis would call off the birds in the 4th quarter.

The defense was stingy setting a school record with 10 sacks on the night with 13 Falcons recording multiple tackles in the contest. Defensive ends #30 Mike Thompson and #75 Andrew Stevens would combine for 7 sacks on the evening. Kicker #24 Cody Folts launched the ball off the tee all night sending two kicks in for touchbacks. In addition to his 3 sacks #30 Mike Thompson had the teams first safety on the year. The Cactus Shadows defense gave up only 49 yards on the ground and 31 in the air.