SEPTEMBER 12, 2012
Desert Stages Theatre presents 'A Streetcar Named Desire'
Fri., Sept. 14 – Sat., Oct. 27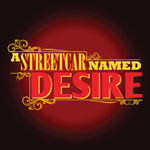 SCOTTSDALE –Desert Stages Theatre presents the provocative, classic tale of A Streetcar Named Desire, Fri., Sept. 14 - Sat., Oct. 27.

The Tennessee Williams drama unravels the complex and haunting emotional battle of a desperate and deluded Blanche DuBois and her ruthless brother-in-law, Stanley Kowalski.

Set amidst a steamy summer of a 1940s French Quarter in New Orleans, the heat of the scene's backdrop shrivels when compared to the heat of the tragic, despairing and abrupt twists of this classic's storyline.

DST's Actor's Café Series presents the show with a new level of pathos and the intimacy that only the 65-seat Actor's Café can deliver.

A Streetcar Named Desire's unforgettable characters are Blanche DuBois portrayed by Rebecca Johnston; Stanley Kowalski by Chad Krolczyk; and Kellie Dunlap as Stella Kowalski.

Also featured are Trevor Starkey as Harold Mitchell (Mitch); Timothy Pittman as Steve Hubbell; Corin Grimm as Eunice Hubbell; Caleb Rock as Pablo Gonzales; Tom Endicott as the doctor; and Keaton Honaker as the young collector.

History
A Streetcar Named Desire originally premiered on Broadway in 1947. Written by American playwright Tennessee Williams, the production won a Pulitzer Prize for Drama in 1948. Marlon Brando played Stanley Kowalski in the original Broadway premiere and went on to play the character in the popular movie version alongside Vivien Leigh, who portrayed Blanche DuBois. The film version won several awards including four Academy Awards.

Tickets Online & by Phone
Tickets are available at DesertStages.org or by phone, 480.483.1664, and also at the theatre box office, 4720 N. Scottsdale Road, north side of Scottsdale Fashion Square, next to the former Coco's restaurant. Tickets are $25 for adults and $22 for seniors and students. A bustling community playhouse, Desert Stages Theatre in Scottsdale, Ariz., is a nonprofit 501 (c) (3), founded in 1995, and presents more than 400 performances every season, from August to July.