SEPTEMBER 5, 2012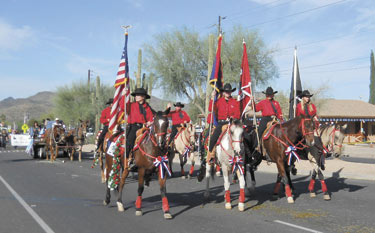 CAVE CREEK – Wild West Days, Arizona's largest western venue and a Cave Creek signature event, will be held from November 2-4, 2012 throughout the Town of Cave Creek. The three-day venue kicks off with a golf tournament at Rancho Manana Golf Club followed by three days of non-stop family entertainment, mutton bustin', a period costume competition, musical performers, period vendors, a western parade and Walk for 100 benefit, bathtub races, the Trainer's Challenge and various horse-related activities and other festivities have made Wild West Days a renowned annual western experience. This year's title sponsor is Sanderson Ford and Sanderson Lincoln on Bell Road.

This year's Wild West Days features the second annual Gun Down by Sundown. Led by the town's entertainment company, Six Gun Entertainment, LLC, the two-day event will feature gunfighter groups from throughout the West that will perform in a gunfight competition all day long, on November 3 and 4. The final performance will feature a special centennial show in honor of Arizona's 100-year anniversary. Six Gun Entertainment's Six Gun Justice Gunfighters also will give award-winning performances on the evening of November 3.

Other exciting Wild West Days activities include:
• Cowpokes and Little Folks: a western play land for kids and families featuring pony rides, performances by Detour Company, stunt training for youngsters and more.
• Walk for 100 (Saturday during the parade): Hundreds of firefighters, police and service men and women on horseback and on foot walk in silence to honor and pay tribute to colleagues who have fallen in the line of duty. The event winds up with a western cowboy church and breakfast at the Buffalo Chip.
• Western parade (Saturday, 9 a.m.): numerous non-vehicular entries bring the true spirit of the west to Cave Creek visitors
• Bathtub races (Saturday): Homemade bathtubs race down the street for the grand prize
• Pig races (Saturday): Pigs race as fast as they can to show their personal best to festival visitors
• Thieves Market (Saturday): The popular Thieves Market showcases western goods, attire and more
• Wild West bull fest – live bull riding competitions
• Cowboy Gathering – Meet Arizona's top cowboys and historians
• Headlining country music at many locations throughout the town
• Brandi Lyons – the renowned horse trainer demonstrates a horse's success before it is auctioned

Visitors also will experience wildlife exhibits, western art, team horse events, mechanical bull riding, cowboy poetry and more. During Saturday's activities, one side of Cave Creek Road will be closed to vehicular traffic. Only wagons, horses and foot traffic will be permitted.

Wild West Days, now in its 10th year, is an annual experience hosted by the Cave Creek Merchants & Events Association, a non-profit business-to-business entity that serves the businesses and organizations of Cave Creek, a prominent Arizona destination locale. A portion of the proceeds from the event will benefit the Association and the 100 Club of Arizona. In addition, the event will provide charitable support to several horse-related organizations in community, which help to preserve the community's Western heritage.

A comprehensive list of scheduled events and activities will be updated at: www.wildwestdayscavecreek.com.