BY LINDA BENTLEY | SEPTEMBER 6, 2012
Carefree selects new council member
Water company introduces new general manager, Francom receives standing ovation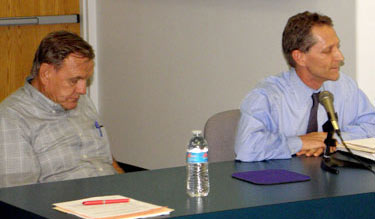 The new Carefree Water Company General Manager Greg Crossman (r) was introduced during Tuesday night's meeting. Crossman is working closely with current General Manager Stan Francom, who is retiring in November. Photo by Linda Bentley


CAREFREE – A brief Carefree Water Company meeting was held before the town council meeting for the purpose of approving the minutes from the June 5 meeting and introducing Greg Crossman as the water company's new general manager.

Crossman was recently hired to replace Stan Francom, who is retiring in November.

With a background in engineering, Crossman said he is working closely with Francom, whose background is in finance.

As the water company meeting adjourned, everyone in the council chambers gave Francom a standing ovation.

Six people submitted letters of interest to fill the remaining term of the council seat vacated by Jim Van Allen, who resigned in July for health and other reasons. The term expires in May 2013.

Councilman Arthur Gimson said he spoke to each of the applicants regarding the divisiveness and bickering on council during the 2010 recall election.

He then enumerated all the things council has accomplished since that time.

"We have six individuals, all of whom are qualified," said Gimson, who stated he would not be running for reelection and only ran to "keep the naysayers from getting elected."

Each of the six candidates spoke a little about themselves before council members cast their ballots.

Applicants included Michael Krahe, Les Peterson, John Blair, Robert Gearhart, Heather Burgett and Planning Commission Vice Chairman Michael Crane, who appeared telephonically and was ultimately selected by a vote of 4-1-1, with Burgett and Blair each receiving a vote.

Blair indicated he had no plan to run for reelection in March and said, as a consultant, he works best on short-term projects.

Vice Mayor Melissa Price cited that as a reason to select Blair.

However, both Gimson and Councilman Michael Farrar disagreed with that as a reason to select anyone for council.

Gimson pointed out when council raised the topic of four-year staggered terms, "It's so we can have continuity."

He encouraged all those seeking office to become involved by attending meetings and serving on committees.

Councilman Marty Saltzman commented, "Two to three years back, you couldn't get someone to run for council even if it paid," and stated he would be pleased if any of them ran for council and won.

He indicated the town would be in good hands with any or all of them at the helm.

Councilman Glenn Miller said it was a tough decision and stated, "We're blessed with a lot of talent in this town."

Mayor David Schwan said all those applying were not only highly qualified but his friends as well, making the decision even more difficult.

After the vote, Schwan pointed out there would now be an opening on the planning commission.