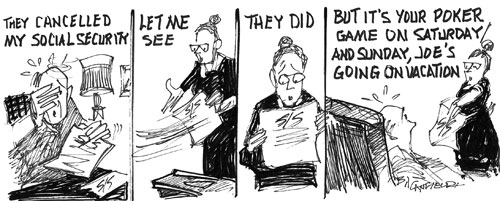 Cave Creek Nar-Anon Outreach
I am the father of a Heroin Addict. I live in Cave Creek and my son went to Cactus Shadows H.S. I have met many families in Cave Creek and other parts of Arizona that have also experienced drug addiction in their family.

This has been the hardest thing my family has ever had to deal with. Addiction is a family disease. It affects the relationships of those close to the addict: parents, spouse, siblings, children, long time friends, and employers. If someone's addiction is bothering you, first you must help yourself. Nar-Anon is a 12- step support group for family and friends of addicts.
There are no dues or fees to join. Just come to a meeting to hear others going through similar problems. There they talk about how they cope and find recovery.

To locate a meeting in your area, visit www.nar-anon.org

One of the ways we have found strength and hope is by attending our local Nar-anon meeting. The Cave Creek meeting is located at the North Ridge Community Church (in the Flagstaff Room), 6363 E. Dynamite Blvd. Thursdays from 7 to 8:15 p.m. Our local group is called "A Better Way to Live."

Regards,
Name withheld by request
Dear Cave Creek merchants and residents
The Cave Creek Chamber of Commerce, now the Cave Creek Merchants & Events Association, has been reinvigorated to provide leadership and support to the merchants, organizations, educational entities, non-profits and residents within the Town of Cave Creek.

First, we want you to know that we want you as an important member of this association. Second, we are determined to drive our revised mission on your behalf with fervor, strong community relationships and continuity. If your business joins now, you will be able to take advantage of a special $75 2013 annual membership offer. For residents who wish to become members, if you join as an individual now your special membership price is only $25.

Our core group of leaders has been serving Cave Creek and the desert foothills area for more than 12 years, bringing excitement, energy, traffic and events to the businesses and organizations in our community. Our new team is providing a fresh perspective and enthusiasm that is vitally important to the success of this organization. None of our leaders are paid staff; we are 100 percent volunteer and are investing hundreds of hours annually to benefit Cave Creek merchants.

The purpose of the Cave Creek Merchants & Events Association is to promote Cave Creek as the leading Arizona destination of choice for western events, business, shopping, culture, arts, dining, entertainment and desert living. Our efforts, along with your support, will result in increased local and visitor traffic, strengthening sales for businesses in the Town of Cave Creek.

We believe that when everyone works together, everyone benefits. Therefore, we are excited to be working closely with other business leaders to build a strong foundation together and to enhance long-term opportunities for your business or organization in our unique and distinctive town.

CCMEA'S mission is two-fold. In order to drive more customers to the businesses within Cave Creek, we are focused on two tracks: events and marketing. As a member, you will receive the benefits of outstanding local event development and management as well as local, regional and national advertising and public relations.

We will continue the development, marketing, management and implementation of Cave Creek's signature events as well as lend support for other existing events that successfully draw visitors to the business core. These events introduce thousands of new people annually to businesses in Cave Creek.

Your dues will allow us to advertise in hospitality-related online and print media to deliver more tourist traffic – but only if funds are available. This is why we need everyone's support – the more support, the more we can do.

Needless to say, we are very excited about the future of our association as we see everyone working together. So please, make a commitment to your hometown merchant and events association now and apply TODAY so you can be part of moving Cave Creek's agenda forward in a very positive way.

For applications contact Leslie Jensen, Farm Bureau office just 60 steps west of the Dairy Queen 480-575-0710, fran@boothcommunications.com or visit Sonoran News 6702 E. Cave Creek Rd. #3.

Click here for your individual or business membership application.

Merchants: Become a member by December 1, 2012 and your 2013 dues are only $75.
Resident Supporters: Become a member and your 2013 dues are only $25.

Your Cave Creek Merchants & Events Association Board and Committee Members
Johnny Ringo, president; Marc Peagler, community liaison; Mark Stevens, vice president; Fran Booth, public relations; Jean Glass, treasurer; Leslie Jensen, committee member; Amber Booth, secretary; Gary Sprague, committee member; Evelyn Johnson, at-large member; Patty Pollnow, committee member; Dina Piaquadio, merchants' liaison

Republicans jeopardize 2012 election with
pro-life plank
Risking the ire of my Republican friends, I am compelled to suggest that the pro-life vs. pro-choice debate should not be a centerpiece of the 2012 election. In a politically divided and close election the debate about Roe vs. Wade is a sure loser, especially among women. Most Americans can agree that pro-life is the preferred choice. However, most conservatives want to make their own decisions and want government out of their life choices. Let freedom, opportunity and liberty be the calling card of the Republican Party.

John Hoeppner
Cave Creek
Clean up time!
To you losers and losers (yes - I know!) of the primary elections: CLEAN UP YOUR BANNERS AND POSTERS IN OUR RIGHT-OF-WAY! You polluted enough during your campaign; now get rid of your trash.

C.O. Jones
Phoenix
Mask
Who cares about Mitt and Ann Romney's tax returns? They have a lot of money, big deal. They've used tax shelters and loopholes to keep as much of their money as possible; again no surprise. The public does not care much. Democrats will use them to show the inequality in taxation rates, but that's about it. So why not make them public?

There must be an extremely good reason to continue allowing this issue to interfere with Romney's message to America. The IRS already has their returns and has not found any problems that we know of. Who else could they be hiding this information from?

They have told us without meaning to do so. One excuse they gave was their tithing to the Mormon Church was deeply personal and not for public viewing. But wait … Mitt has made public statements about it, so that's not the problem. The only group remaining is the Mormon Church.
To be a "member in good standing" includes giving 10 percent of your income. This is common knowledge and professed by the Romneys themselves. Good for them … unless they're lying.
Are Mitt and Ann a modern version of the Biblical Annanias and Saphyra? Look it up.
Warren Isleib
Nashua, New Hampshire
Keeping Tea Party, conservatives out
For several years now all we have heard about the GOP Establishment was, there is no such thing. And who led that charge, day in and day out? None other than the "Executioner" himself. The soft spoken, deliberate and refined, Karl Rove.

What you may ask yourself has been Mr. Rove's agenda since the appearance and growth of the conservative movement in this country? Was it to see that as many seats in the the House and the Senate be filled with persons with an (R) after their name?

If you think that, you have not been paying attention. Mr. Rove, with the full assistance of one "I'm not a Republican" Sean Hannity, has cared little about controlling the Congress. His agenda?

Keeping Tea Party and conservatives out.

The list of his shenanigans is long and crystal clear. If the GOP RINO was defeated by a Tea Party supported candidate or a small government conservative, did Rove do all he could to ensure the Republican win the general election thereby helping get much needed control of Congress?

No, quite the opposite. He in fact, did everything in his power to see to it that anyone who had had the audacity to oppose the establishment, lose to the Democrat in the general election.
Sharon Angle and Christine O'Donnell are just two examples of the battering conservatives took, at the hands of Rove, after they won the primary. The message? We in the establishment will not stand for any interference in our control. The country be damned.

For more visit www.TPATH.org.
Please help SWCC rescue the Fox Mountain alpha female Mexican gray wolf F1188
On August 8, 2012, the U.S Fish and Wildlife Service issued an order for the lethal removal of Fox Mountain alpha female Mexican gray wolf F1188 for the depredation of cattle. On hearing of the lethal removal Southwest Wildlife Conservation Center (SWCC) offered to pay for live capture and give her a permanent home as an alternative to lethal removal. On August 10, 2012, the USFWS accepted our offer and rescinded the lethal order replacing it with the live capture and permanent removal of F1188. While we are saddened that she will lose her freedom, we are happy to be able to give her the ability to live out her life with the other Mexican gray wolves at our facility.

Please donate today. Your donation today will help rescue F1188 and care for other animals like her.

Thank you!
Southwest Wildlife
Conservation Center
www.southwestwildlife.org
Candidates for CCUSD93 governing board
What is one of the major priorities of the five candidates running for the three CCUSD93 governing board seats? Four of the candidates emphasized the need for better communications with the community, ostensibly to extract additional funding from the district taxpayer through bonds and overrides. Only one of the candidates stressed "raising the bar on achievement" ... "retaining excellent teachers ..."updating curriculum."

These statements were included in a recent article in the Scottsdale Republic, where the writer asked the various candidates to comment on important school district issues. Nowhere in this article was their any mention (except for one candidate) of any modification of teaching methods, curriculum, etc., but there was a continuous battery of requests for more bonds, more overrides, etc.

Several of the CCUSD93 board candidates mentioned "lack of community support ... our voting public is not in favor supporting bonds or overrides ... disconnect between Cave Creek community and the Cave Creek school district ..." Could it be that the governing board members, both past and present, do not understand the real wishes of all of the district taxpayers? As supposed representatives of all of the district voters, shouldn't the CCUSD93 board members try to significantly understand what voters want or do they already know their positions before taking office? One wonders!

The CCUSD93 governing board has been and will be elected by district voters and, thus, owes primary allegiance to this larger taxpaying group.

Alexei Westfall
Email
Pinocchio, Richard Carmona, and Senator Goldwater
The race for the open U.S. Senate seat in Arizona got a lot more interesting when Richard Carmona, the Democrat candidate, staged an event in front of a statue of Senator Barry Goldwater and touted the endorsements of two members of Senator Goldwater's family, daughter Joanne Goldwater and granddaughter "CC" Goldwater. Mr. Carmona's nose must have been growing when he attempted to paint himself as "Mr. Goldwater" because Carmona was running against Jeff Flake, one of the most conservative members of Congress and a former Executive Director of the Goldwater Institute.

Senator Goldwater is fortunate to have had many relatives but, unfortunately, only a few of them shared the senator's strong limited government philosophy. (His son Barry Goldwater Jr. is one who does and he supports Republican Jeff Flake.) Some of the senator's relatives, such as Joanne and CC, supported his more libertarian views, such as those on abortion and gay marriage, but those positions represent a very small part of Senator Goldwater's overall views. The majority of Senator Goldwater's views are the ones held by Republican Jeff Flake, not his former Democrat opponent.

As one of the original founders of the Goldwater Institute I can attest to the difficulty of keeping track of the various opinions of Goldwater family members. The differences in some cases were extreme. When Senator Goldwater died his widow actually tried to take the Goldwater name away from the Goldwater Institute because of her views which differed greatly from the understanding that I and the other founders had regarding where the senator stood.

I believe Senator Goldwater was essentially a libertarian, but not just on the two social issues mentioned above. He believed in limiting government powers across the board. So does the Goldwater Institute.
Roy Miller
Phoenix
"Forward," is it?
A political slogan that was launched by video on May 1, 2012 has a rather un-American, pro-Marxist history. It is no coincidence that May 1 is the international communist holiday, the "International Socialist Workers' Day."

Anyone with a sliver of memory or an interest in international relations remembers Mao Zedong's "Great Leap Forward," in China, or Marx's extensive use of the term, BNEPEA! (Vpered) not to mention Fidel Castro's ¡Adelante!, or the Italian Communist party's Avanti! – all of which are Marxist exhortations to forge ahead and succeed. In other words, FORWARD!
As expected, left-wing data source Wikipedia suddenly scrubbed its extensive page on "Forward!" once conservative editorial writers began to notice the revival of the Marxist slogan in American politics. One of the candidates for the presidency of the USA is a Red Diaper Baby, born into a Marxist, atheist family and nurtured at the knees of violent anti-American dissidents, especially pornographer and sexual predator Frank Marshall Davis, who, according to some, looks remarkably like the current candidate (the irony is that if, in effect, FMD is the candidate's REAL father, the Birthers' challenge is null and void!). The candidate in question flourished among convicted terrorists William Ayers and Bernadine Dohrn, and for twenty years listened to violent, anti-American rants, from Rev. Jeremiah Wright. Never having held a real job, the candidate functioned as a community agitator, until he made his way into the U.S. Senate, where he voted "present" most of the time. That he made it to the White House is a tribute to social guilt upon us Americans, instilled in us by a well-oiled disinforma-tion campaign financed by former Eichmann collaborator: anti-American billionaire George Soros.

We are at the final crossroads: Do we return to American values, or do we plunge into European-style Socialist decadence. We have just one chance to reverse the tide on November 6, 2012. If we do not succeed, we'd better practice calling one another "Comrade."
J-P. A. Maldonado
Phoenix
Too big to fail?
The power of Evil Federal Reserve should be obvious to all but the most simpleminded among us. When we accept the concept of "TOO BIG TO FAIL" and don't try to trim down the size of financial institutions, we are putting ourselves in the hands of extortionists! The Sherman Anti-Trust Act of 1890, Clayton Act of 1914 and Robinson-Patman Act 1936 all tried to address the dangers of "TOO BIG." Democratic President Wilson turned over the financial fate of our nation to Bankers back in 1913 with the creation of the Federal Reserve to allegedly stop financial disasters which occurred many times since then. Wake up America! Recognize that the Fed, Goldman Sachs are screwing you and your offspring over in full view. Stop the printing machines! They just make the rest of the dollars less valuable! And stop listening to the drug crazed, rehab dependent Hollywood crowd! Like they know what's best for you! Right?
Sincerely,
Joseph DuPont
Towanda, Pennsylvania
Flake is light on pork but heavy on liberty
In the August 30 Arizona Republic the assertion is made that "The state's business community has seen [Congressman] Flake do virtually nothing to support economic development." Such a ridiculous remark can only be made by someone who has no idea of what causes business development. What the author of this article obviously means is that Congressman Flake does not "bring home the bacon" for Arizona. That is because Flake is someone who does understand what causes business development and that is low taxes, limited government regulation, the rule of law, and respect for property rights and contracts.

In every one of these areas Congressman Flake is among the best in the entire Congress. His ratings are high among conservative groups and business organizations. The fact that he is not focused on getting goodies for his constituents should be something that is praised, not lamented.
Roy Miller
Phoenix