BY LINDA BENTLEY | AUGUST 29, 2012
Warrants unsealed for former NBPC president facing felony charges
Bonner is suspected of charging the union for personal expenses to carry on a decade-long affair with his mistress in Chicago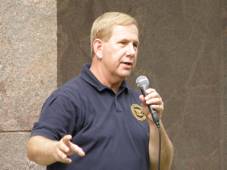 Terence "TJ" Bonner

San Diego – Terence J. "TJ" Bonner, retired U.S. Border Patrol agent and former president of the National Border Patrol Council (NBPC), self surrendered to the U.S. Marshal's Office on Aug. 20 after being indicted by a federal grand jury on 12 felony counts of conspiracy to commit wire fraud, wire fraud, and aiding and abetting with criminal forfeiture.

Bonner subsequently posted a $100,000 surety bond to secure his release.

One of the conditions of his release was that he "not possess any firearm, dangerous weapon or destructive device during the pendency of the case" and Bonner was given 48 hours to surrender all firearms to an appropriate law enforcement agency.

Last week, the court unsealed three Search and Seizure Warrants, dated March 8, 2012, June 27, 2012 and June 28, 2012.

The March 8 warrant authorized a search of Bonner's home in Campo, Calif. for items, documents and financial records for the period Jan. 1, 2004 to the present.

The items being sought were based on Bonner being suspected of defrauding the NBPC by submitting fraudulent claims for expenses and lost wages.

The facts establishing probable cause stated Bonner, who served as president of the NBPC for over 20 years, is suspected of systematically abusing his longstanding role as president of the union by charging the union for various personal expenses, including over 100 trips to Chicago to carry on a decade-long affair with his mistress, as well as trips to other cities to attend professional sporting events.

Bonner is also suspected of fraudulently charging the union for "lost wages" based on union work he supposedly performed during overtime hours, on Sundays, federal holidays, nights and annual leave tours.

On some occasions, Bonner submitted claim forms, referred to as vouchers, while on other occasions he simply submitted the bills for credit cards he used.

The union paid Bonner's credit card bills and paid him on his vouchers.

Bonner received checks from the union signed by the union secretary/treasurer and "co-signed" using a signature stamp with Bonner's own signature, although he occasionally received a cashier's check rather than a union-issued check.

The special agent (SA) filing the probable cause statement said, based on his review of the records furnished by the union and records obtained from credit card companies, rental car companies and other vendors, he believed Bonner submitted claims and received payment for a wide range of purchases, including hundreds of trips to non-union locations, hotel stays, meals at upscale restaurants, transportation, electronics, books, luggage and other personal items.

And, many of the expenses charged to the union appeared to relate to trips Bonner took to visit his mistress in Chicago.

Bonner's mistress testified before the grand jury that she was having a relationship with Bonner, a married man.

According to the probable cause statement, "Bonner's trips to Chicago appear by and large to have had no business purpose relating to the union."

From 2004 through March 2011, the SA said it appears Bonner took over 100 trips to Chicago, mostly paid for by the union.

Bonner also appears to have taken trips to various cities other than Chicago to attend professional sporting events, including football and hockey games, as well as trips at union expense to other cities to visit family members.

Bonner's mistress, whose name was redacted, testified before the grand jury on June 12, 2011 that she met Bonner in July 2000 in connection with work she did for a union affiliated with the NBPC.

Beginning in 2001, she said Bonner would fly numerous times a year from San Diego to Chicago to visit her for extended weekends, where they frequently stayed in hotels and ate in restaurants with Bonner picking up the tab.

On a typical weekend, she said they would spend no more than 15 minutes discussing union business.

She testified, "[H]is purpose of coming to Chicago was to see me …" and stated she and Bonner attended hockey games together, including a hockey game on New Year's Day.

Bonner is also suspected of making fraudulent claims for lost wages.

As president of the NBPC, Bonner signed numerous policies that enabled him to profit at union expense.

One of those policies provided Bonner and other union officers with an annual reward for their uncompensated "sacrifices" to the union, entitling them each to spend up to $800 annually to purchase one or more gifts and/or meals for their spouse or "significant other" and or children at any time of their choosing.

They were also entitled to another $800 per year as a "clothing allowance."

Another policy the SA called "particularly pertinent to the fraud scheme at issue here" provided that the union shall pay union officers for "all FLSA (Fair Labor Standards Act) overtime hours and differential payments for Sundays, holidays and nights lost due to activities on behalf of the Council … upon provision of proof to the secretary/treasurer that the officer was engaged in activities on behalf of the Council for all hours claimed."

These wages are referred to as "lost wages" compensation.

After reviewing the records relating to payments made by the union to Bonner from 2004 to 2011, the SA determined Bonner was paid over $100,000 for purported "lost wages."

Bonner appears to have submitted claims for lost wages during periods of time he was taking personal trips to visit his mistress or other family members or to attend sporting events.
Checks from the union for lost wages were sent to Bonner by mail.

Noting Bonner did not provide proof to the secretary/treasurer in advance of payment that he was engaged in activities on behalf of the union for all hours claimed, the SA went on to say, "Bonner's claims for expenses and for 'lost wages' appear to be but a part of his scheme to defraud. Separate and apart from his 'lost wages,' Bonner's salary was paid for by the U.S. Border Patrol …

"According to CBP (Customs and Border Patrol) personnel records, after 2005 Bonner never submitted a leave slip to the government, asking for time off from work to take his personal trips … Because he never advised that he was taking time off, he received his full salary from the government, as well as annual payments from the union for all his unused annual leave each year."

The SA estimates Bonner's fraud for false payments and losses to the union substantially exceed $200,000.

The facts supporting probable cause for the June 27 warrant state Bonner submitted 52 vouchers to the government in December 2009 and January 2010, totaling over $100,000, for payment of his alleged union travel, encompassing the time period of 2004 through 2009.

Because the vouchers did not conform to CBP policies, procedures and timeliness, the payment was denied by CBP and suspicion was raised as to their authenticity.

Upon further review of the 52 vouchers, the SA found several thousand dollars had already been paid by the union in earlier years.

The warrant sought e-mail records pertaining to Bonner's MSN/hotmail account which the government believes will tend to prove violations of mail and wire fraud.

A warrant issued the following day sought e-mail records from Bonner's Yahoo/sbcglobal e-mail account for the same purpose, noting there was probable cause that the items identified in the warrant "have been used in the commission of a crime and constitute evidence, fruits and instrumentalities of violations of mail and wire fraud …"

Bonner entered a plea of "not guilty" on Aug. 20 and is scheduled for a status conference hearing on Oct. 5.