BY LINDA BENTLEY | AUGUST 29, 2012
Another burglary suspect bagged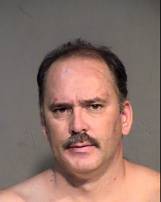 Gary L. Eisenmann

SCOTTSDALE – Gary L. Eisenmann, 43, was taken into custody by Scottsdale police last week on a misconduct involving weapons charge, a class 4 felony.

Eisenmann, a convicted felon who has not had his rights restored, is precluded from owning guns.

Scottsdale police are working with the Maricopa County Sheriff's Office, since Eisenmann has been tied through ballistic evidence to a recent burglary at a home in Rancho Mañana about two weeks ago, to determine if Eisenmann and possibly a female accomplice are connected to other burglaries in the area.

Eisenmann's modus operandi was to park outside high end residences in gated communities and walk into the community. He entered homes through open back doors, garage side doors, or, as a last resort, shooting out a pane of glass to gain entrance.

In addition to jewelry and electronics, he would take IDs and credit cards to commit theft by fraud.

The current charge against Eisenmann is non-bondable since it was committed while Eisenmann was released on another pending felony charge.

Eisenmann, along with his co-defendant Christopher Arthur Chatmann were indicted in September 2011 on theft by credit card obtained by fraudulent means charges.

Chatmann is also facing dangerous drug and drug paraphernalia charges.

September 2011 is also when Eisenmann was released from prison after being sentenced in 2001 to eight years and nine months for felony theft.

Records indicate Eisenmann has spent most of his adult life in prison with felony convictions for theft and burglary dating back to 1993 with subsequent convictions for theft and burglary each time he's released.

MCSO is continuing to work on a system to be able to quickly inform and involve the community in real time when crime occurs.