BY PETE MOHR | AUGUST 22, 2012
Meet the Football Falcon seniors … Connor Folts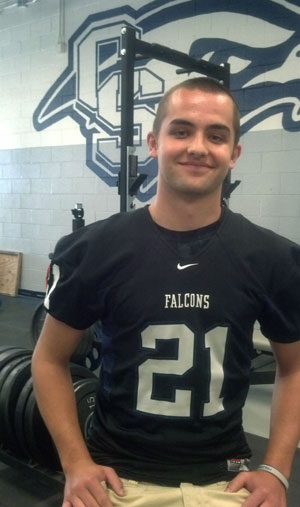 On several previous occasions, I've observed, in this newspaper, "Stick around high school sports long enough and you'll see things you've never seen before." But the 2012 Falcons have a uniqueness I could never have anticipated; nor, I predict, will it ever be duplicated on any team – anywhere. These Falcons roster three sets of twins: Cruz and Drazen Baciewicz (pronounced Bah-shev-itz); Alex and Cody Fisher; and Cody and Connor Folts. I say these six guys should be candidates for the Sports Illustrated weekly feature "Faces in the Crowd."

This issue's football senior is Connor Folts, the "second" Folts twin to be profiled. In actuality, Connor is the "first" Folts twin, born in Tucson on September 2, 1994, about ten minutes before Cody. How could parents, (now) Creekers Randy and Susan Folts, have known their third and fourth children would grow up to be placekickers for Cactus Shadows?

Both almost didn't make it: Cody, twice had concussions during his sophomore season, has medically come back in the role of placekicker only; and Connor, after considering early retirement from football to play soccer again and to concentrate on his studies, has returned for his senior season – thanks to the encouragement of his teammates. "I'm really glad I did," he told me.
"Why, Connor?" I questioned him. "I wanted to be a part of a team with the potential we have. We know that we can do something special."

And the difference between this summer/fall and last? It all begins, Connor believes, with the seniors. "We're more close-knit," he explains. "We're more focused. We trust each other. We're more disciplined." "How do those emotions transfer to the football field?" Connor gave me this understandable answer: "We all know our jobs – and how to get those jobs done, without having to worry about doing someone else's job for them."

Connor will line up as a wide receiver (behind Kyle Gladstone), and sometimes he'll be in the slot for Matt Hartlen. "Bryce (Kinsler) is going to have a lot of us receivers to throw to. I like the 'chemistry' between Bryce and any one of our top four receivers."

Connor's personal goals for this season are simple. First, as a member of the Falcons' receiving corps, "No drops!" He challenges himself, "I have no reason to drop the ball!" Second as a contributor to his team's effort, "I want to make plays whenever I can." What about the team's objectives? After the virtually automatic "making and then going deep ib the State Playoffs," he echoes his fellow seniors, "We want to get our school and the community behind us." Admirable, Connor, but winning will be the necessary first step.

He rates himself "a pretty good student," citing History (Steve Mitten) and Math/Algebra (Cameron Bender) as his favorite subjects and teachers. For Ms. Bender, he serves as a "peer tutor." Connor enjoys fishing with his classmate, Weston Classen, and just hangin' out a lot with classmate/varsity cheerleader, Kathryn Lowry. "She's one of my best friends," he affirms.

Connor laughs when I ask him about each Thursday's placekicking competition between identical twin Cody and himself. "It was nice having him around last year to mentor us kickers, whcn we didn't have a kicking coach. He really tried to be a part of the team, even when he couldn't play. Rivalry between us? That's never been a problem," he assures me.

Well, I never had a brother – much less a twin. And at the peak of my high school football career in 1953, I was a 150-lb. long-snapper. So I can only imagine how Connor and Cody are feeling about being back – together with their varsity teammates. May this senior season (probably their last as football players) become a lifetime memory.
BY PETE MOHR | AUGUST 22, 2012
Determined Falcons seek to upset Boulder Creek in home opener

"Jab them Jaguars!" is Friday's battle cry
Early in the evening of August 24, as fans make their way toward Falcon Stadium, it will likely be backdropped by the usual setting sun. Then, shortly after sunset, it will be time, once again, for the first of "Friday Night Lights," as the Cactus Shadows Falcons host the (Anthem) Boulder Creek Jaguars in the opening game of the 2012 football season.

Yes, for the home team, it is a brand new ten games (hopefully more, if the 'Birds make the State Playoffs); and the Falcons, like every other football squad, will start perfect at 0-0. Second-year Head Football Coach Greg Davis, with the trials of last fall filed away under "Closed," is well-prepared and ready for the 7 p.m. kickoff. So, too, are 17 hunkered-down seniors. Just how ready are these Falcons?

After an encouraging August 15 scrimmage (here) against Millennium (hardly a "cupcake"), the answer to that question will begin to unfold, when the visiting Division 1 (larger schools) Jaguars bus down from Anthem. They finished XXXX last season, which they opened by searing down the Falcons in the 2nd half on their way to a 48-20 victory. This sports reporter was on hand to photograph an impressive "road" crowd that had caravanned up I-17. CSHS students, keep that fan support going this year – for all sports!

While on the subject of "Falcon Pride," I offer this encouragement to the recently-entered Class of 2016: There'll be no better time than this Friday night to show your school spirit by parading around the Falcon Stadium Track (about 45 minutes before game time) behind the "Fighting Falcons Marching Bank" and the CSHS Cheerleaders. They'll smartly step you to the student section in the West Stands. What a great way to start your four years as Falcon fans!
Congratulations to Music Director Gary Wycoff and Spirit Line/Cheer Head Coach Rika Cuff for starting (last year) what hopefully will become a Cactus Shadows pre-game tradition. Now back to Friday night's home opener.

What's most important to longtime Falcon fans is whether this CSHS team, led by healthy again senior quarterback and Quint-Captain Bryce Kinsler and his fellow captains, seniors Matt Hartlen (slot receiver), Kyle Gladstone (wide receiver), Kyle Hajek (center) and junior Brad Souva (DT), can make good its commitment to start bringing back "respect" (their goal) to Cactus Shadows Football after a disappointing 3-7 performance in 2011.

Now I can already hear you doubters out there sarcastically warning, "Action talks, but 'you know what' walks! As for this self-confessed Falcon "homer," I'm buying into the confidence I've been picking up from the Football seniors all summer long. No, I can't march into Falcon Stadium with the Class of '16, but for sure I'm in lock-step with Coach Davis and his Falcons. In an upset shoot-out, I predict: CSHS, 35 – Boulder Creek, 31.

All right, Falcons, make me 1-0!
AUGUST 22, 2012
Twelve for the 'Birds!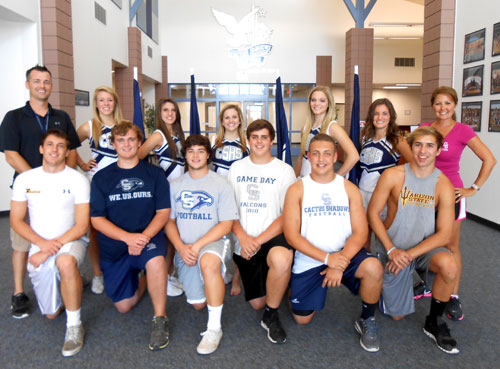 Cheer's five captains, proudly racing with Old Glory and the C-S-H-S spirit flags, will lead the 2012 Falcons onto the field before Friday night's Cactus Shadows-Boulder Creek kickoff. Standing, l-r: Emily Sill, Briana Vandibber, Noel Woolstenhulme, Shae Lowry, Brett Evens, Spirit & Cheer Head Coach Rika Cuff.
Kneeling, l-r: Head Coach Greg Davis, Matt Hartlen(SE), Junior Brad Souva (pronounced Soo-vay) (DT), Bryce Kinsler (QB), Dillon Hasse, Kyle Hajek (C), Kyle Gladstone (WR). Kickoff set for 7 p.m.
Photo by Ron Puryear