AUGUST 15, 2012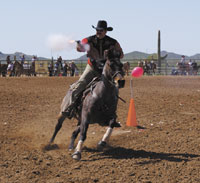 PHOENIX – The Arizona Cowboy Mounted Shooters Association (ACMSA), an association that showcases equestrian sports that combine techniques used in barrel racing and reining horses, is playing a lead role in bringing Arizona's first full length western film to life.

The association's members put their multi-talented horses through a number of paces which require them to rein, turn and run, all techniques critical to mounted shooting. Mounted shooting is an exciting, timed event where the rider shoots blanks at targets from horseback using two single action 45 caliber revolvers. The fast-paced mounted shooters negotiate different courses while garbed in western wear, often 1880s period correct. ACMSA is part of the Cowboy Mounted Shooters Association (CMSA), which puts on events all over the world including the United States, Canada, Germany and many other locations. ACMSA, which was founded in Scottsdale, now is based in Phoenix, Ariz.

"ACMSA is the oldest and largest mounted shooting club in the United States," says Tom Lattimore, ACMSA vice president. "The sport has grown to thousands of members and is the fastest growing equestrian sport in the nation. It was founded in 1991 by Jim Rogers and its first world championship was held in 1992 at the Ben Avery Shooting facility in Phoenix, Ariz."

For Arizona's first full length western film, Copper Wind, ACMSA is providing 25 shooting horses valued at more than $300,000, $11,700 in wrangler professionals and talent and approximately $15,000 in related services and commitments. In addition to its role in the epic western, ACMSA's multi-disciplined association members will thrill more than 12,000 people when they perform live during Wild West Days, Arizona's largest western event, on November 3 and 4, 2012 in Cave Creek, Ariz. The schedule will be available by September 1, 2012.
Please go to wildwestdayscavecreek.com for more information about the event.