BY MARIELLE D. MARNE | AUGUST 15, 2012
Saba's is authentic, tasty Mediterranean cuisine in scenic Carefree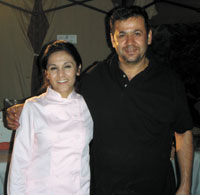 CAREFREE - It's no wonder people rave about the service when they visit Saba's Mediterranean Cuisine. Oscar and Aysun Turkmen have owned Saba's for the past six years. "It's a family run business and family is very important to us." As such, they like diners to feel at home when they come in to eat, so attentiveness is of paramount import.

The Turkmens are from Turkey, thus they know Mediterranean food. They grew up with it! It's authentic, it's healthy and the portions are satisfying. "Any one of the salads, it's a meal. It will fill you up," Oscar offered.

Behind the scenes, Aysun takes care of the menu and cooking. Some of her most popular requests are lamb shanks, various kebabs and the Sharwarma chicken. "We have a wide range of prices from $8 on up to $26." For lunch, any of the homemade pita bread sandwiches are a hit.

If you're uncertain what to expect with Mediterranean food, Oscar encourages, "We have tastes everyone can enjoy. We have chicken, beef, lamb, something similar to hamburger. It's nothing unusual, not funny, not spicy. You will find something you like.

"Some people have the idea that Mediterranean food is something they eat once a month, but once they have it, they realize it is everyday food."

Along with the scrumptious food, there's a bar. The best selling beer is Efes (from Turkey), which is a wonderful complement to any of Saba's entrees. And there's decadent desserts, including baklava. The restaurant itself is quite pleasing to the eye. The colors are appealing, it's exceptionally clean and even the ceiling is pretty fancy.

Check out the menu online at www.sabascarefree.com, then visit and partake at 37555 Hum Rd. For carry-out or hours, phone 480-575-6574.