BY LINDA BENTLEY | AUGUST 8, 2012
'Top Two' initiative ruled unconstitutional, booted from ballot
'This decision can only be viewed as a major victory for Arizona voters'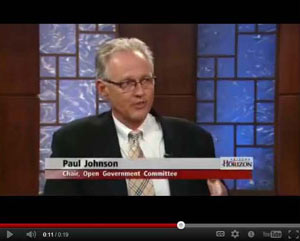 When former Phoenix Mayor Paul Johnson, a liberal Democrat, appeared on KAET's Horizon last month to talk about his Open Elections/Open Government initiative to eliminate partisan primaries, he said, "David Dukes win in this state, seems like every election cycle in the partisan system," indicating he believes Arizonans are racists.

Link to this video clip on Sonoran Alliance


PHOENIX – On Monday, Maricopa County Superior Court Judge Mark H. Brain ruled in favor of the Save Our Vote Committee opposing C-03-2012, and issued an injunction against the Open Elections/Open Government Act, an initiative that would do away with partisan primaries, declaring it unconstitutional and barring it from appearing on the November ballot.

Plaintiffs argued the initiative violated the Arizona Constitution's Separate Amendment Rule, which states, "If more than one proposed amendment shall be submitted at any election, such proposed amendments shall be submitted in such manner that the electors may vote for or against such proposed amendments separately."

Brain explained the goal of that particular rule is to prevent "log-rolling," which he described as "enshrining something in the Constitution that would not otherwise obtain constitutional status by, for example, attaching it to a popular proposed amendment."

He said initiatives are evaluated under the rule by using the "common purpose or principle" test, "which requires the proposed amendments to be topically related, and sufficiently interrelated so as to form a consistent and workable proposition that logically speaking should stand or fail as a whole."

While Brain stated most of the provisions in the initiative easily meet the common purpose or principle test by setting up a workable open primary ballot system, the following provision does not:

"G. Rights of Political Parties. Nothing in this section shall restrict the right of individuals to join or organize into political parties or in any way restrict the right of private association of political parties. Nothing in this section shall restrict the parties' right to contribute to, endorse, or otherwise support or oppose candidates for elective office. Political parties may establish such procedures as they see fit to elect party officers, endorse or support candidates, or otherwise participate in all elections, but no such procedures shall be paid for or subsidized using public funds. (Emphasis added.)"

The Open Government Committee argued the only change is the publicly funded partisan primary, through which the parties selected those party officers in the past, will no longer provide a venue to select those officers, because it will no longer exist.

"But that's not what the initiative says," said Brain. "It would be one thing if the initiative provided that candidates for such offices will no longer appear on the non-partisan primary ballot – such a provision would directly relate to how the primary election would work. Instead, this provision prohibits state assistance in any form or forum and at any time. The court finds that its inclusion in the initiative results in a violation of the Separate Amendment Rule."

Brain ruled the initiative was in violation of the Separate Amendment Rule of the Arizona Constitution and issued an injunction prohibiting Secretary of State Ken Bennett from placing the initiative on the ballot.

Open Elections/Open Government has been dubbed "Top Two," because the top two vote getters would move on to the general election, somewhat similar to non-partisan city council elections.

For example, there could be five Republicans, two Democrats, an Independent and a Libertarian running in the primary. They would all be on the same ballot. The Republicans could have their votes so diluted along with votes for the Independent and Libertarian that the two Democrats could end up the top two vote getters and move on to the general election ensuring a Democrat is elected.

After Brain's ruling, Attorney Mike Liburdi, representing Save Our Vote, said, "Not only does Top Two severely limit voter choice, but as the court found, it is in direct violation of the Arizona Constitution. This decision can only be viewed as a major victory for Arizona voters."

Former Phoenix Mayor Paul Johnson, a liberal Democrat who is chairman of the Open Government Committee, appeared on KAET's Horizon last month to talk about his initiative.

Johnson basically called Arizonans racists when he said, "There is no panacea. This isn't a panacea just like there is no panacea. What I will say is it's a system that's been tried. It works. The idea that it would elect more David Dukes – David Duke lost in that race in Louisiana. David Dukes win in this state, seems like every election cycle in the partisan system."

Johnson's Open Government Committee filed a notice of appeal shortly after Brain's ruling.