AUGUST 1, 2012
An Unwelcome Visitor! Check your dog door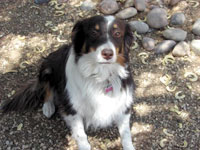 Southwest Wildlife Conservation Center's Executive Director, Linda Searles, recently had an uninvited guest in her office. Linda is used to weird wildlife happenings, as she has been with SWCC since the start in 1994, but this recent visitor in her house was a first.

Linda woke up on Monday morning and headed to her office with her dog Chili, an Australian Shepherd mix. Chili was acting strange when she entered the office and was interested in something under Linda's desk.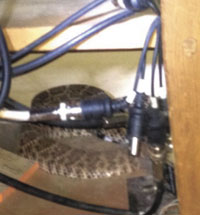 Chili poked her nose under the desk near all of the computer wires. Linda assumed Chili was just sniffing for unclaimed dog treats when all of a sudden the wires started to rattle! Linda screamed for Chili and called her back. Upon taking a closer look she realized a rattlesnake was hiding under her desk!

Linda got her snake bucket and tongs and caught the venomous intruder. If it had not been for Chili, she wouldn't have seen the rattlesnake. Linda would have sat in her office chair, rolled over the snake and been bitten for sure!!!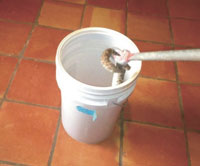 Luckily for Linda, Chili was her hero by alerting her of the snake's presence. YAY CHILI!
At first Linda couldn't figure out how the rattlesnake got into her house, but then she realized the snake probably came in through the doggie door. So remember, other critters besides your pets can use the doggie door!

Visit www.southwestwildlife.org.
Wildlife Clinic/Emergencies: 480 471-9109
Wildlife Education/Tours: 480 471-3621
8711 E Pinnacle Peak Rd, PMB 115
Scottsdale, AZ 85255
Triple R Horse Rescue FUNdraiser
BUCKAROO BUNCO and American Potluck.
When: Friday, August 17, from 6:30 – 9:30 p.m. (approx.)
Where: Desert Hills area of Phoenix, 85086. You'll receive the actual address when you RSVP. Cost: $20 per person & please bring a dish to share. $10 of your admission cost goes to the horses and $10 goes to the prize money.
PLEASE RSVP by Wednesday, Aug. 15 to bobbie@triplerhorserescueaz.com.
Do you love to bowl? Then Join Triple R Horse Rescue for a very special event!
Triple R Horse Rescue will be participating in PACC 911's Bowl-A-Roma on August 4, and they need BOWLERS!

This is an opportunity for the rescue to not only have some fun but to raise some much-needed funds. Eight bowlers are needed so the first people to respond will be taken. Please RSVP to bobbie@triplerhorserescueaz.com.

Location: AMF Scottsdale Lanes, on the NE corner of E. Thomas Rd. & Scottsdale Rd. (7300 E. Thomas Rd., Scottsdale)

Time: From 3 – 5:30 p.m. Please arrive at 2:30 for a meeting.

What is a Bowl-A-Rama you ask? There will be a group of four that bowl one game; the other four can help man our information table and answer questions regarding Triple R. After the first game is complete, the teams will switch.

There are cash prizes for most original cheers, costumes, and table decorations – yet another way to obtain needed funds.

If you are unable to bowl, there is still a way you can help! Please go to www.triplerhorserescueas.com and pledge an amount to help support Triple R's teams! You can also stop by to give your support. There is no limit to the amount of supporters they can have cheering our teams on.

Pledges are $5/pin down, $10/ spare, and $15/strike! Flat amounts are also being taken for pledges as well. Their goal is to raise $1000. Pledge forms are available so contact all of your family, friends, co-workers, neighbors, service providers, etc. and ask them to pledge towards their teams. E-mail Bobbie and she can send the form to you.

They look forward to seeing you!