BY LINDA BENTLEY | AUGUST 1, 2012
Voter confusion abounds in redistricting aftermath
Meet two District 1 legislators during Aug. 6 council meeting
CAVE CREEK – Readers have expressed confusion over which legislative representatives they will be voting for and the boundaries of the newly drawn legislative districts.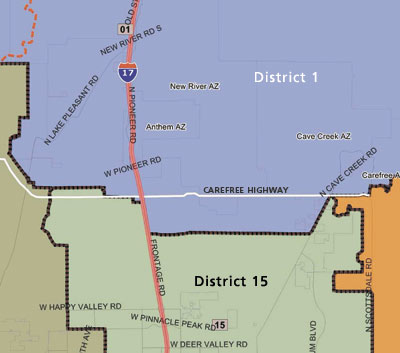 The maps showing the boundaries do not reflect street-name details along some of the boundary lines and the Independent Redistricting Commission (IRC), while placing Anthem, New River, Desert Hills, Carefree and most of Cave Creek into the newly redrawn Legislative District 1, which includes virtually all of Yavapai County, for unknown reasons, decided to place a very small portion of Cave Creek in District 15.

The section of Cave Creek south of Carefree Highway on the west side of Cave Creek Road is included in District 1, but the area south of Carefree Highway on the east side of Cave Creek Road is in District 15.

Because that small area of Cave Creek includes such a small population, it's not clear why the IRC would not have kept Cave Creek intact in a single legislative district.

Citizens can go online to find their legislative and congressional districts by simply entering their address.

The Aug. 6 Cave Creek Council meeting will have Sen. Steve Pierce, R-Dist. 1 and Rep. Andy Tobin, R-Dist. 1, as guest speakers.