AUGUST 1, 2012
Scottsdale Fire Chief announces his departure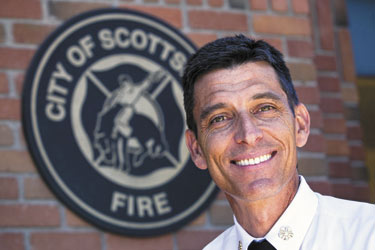 Scottsdale Fire Chief Garret Olson has accepted a position as deputy fire chief with the City of San Luis Obispo, California. Olson, a California native who took over as Scottsdale's fire chief in February 2011 after joining the department as deputy chief in 2004, cited timing and opportunity as the reasons for his departure.

"This was a really difficult decision, but with our son heading off to college, my wife and I decided that this opportunity is the right one for us," he said. "Scottsdale is a great city, and it has been my honor here to lead an outstanding group of professional fire fighters and support staff. At the same time, San Luis Obispo is a wonderful town, close to our roots, and has an equally impressive organization that I am excited to become part of."

Olson's last day will be Aug. 17, 2012. Tom Shannon, who currently serves as executive assistant fire chief, will assume duties as acting fire chief after Olson departs, and will fill that role until a nationwide recruitment for a replacement is completed.

Tom Shannon has been with the Scottsdale Fire Department since 2009 and has 24 years of experience as a firefighter. He previously served as fire chief for Salt Lake City, Utah and assistant fire chief in Glendale, Arizona.