BY MARIELLE D. MARNE | AUGUST 1, 2012
Give your taste buds a charge at the Electric Eel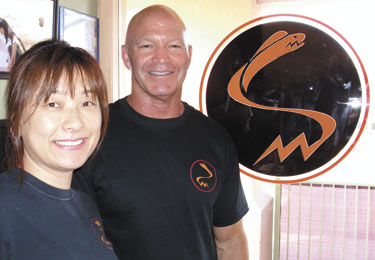 CAVE CREEK - Don't let the name fool you. Electric Eel is more than simply raw fish. Or even cooked fish, for that matter. "We truly have something for everyone's tastes," offered Barry Kirshner, who co-owns the restaurant and bar with Kyongmi Ahn.

Upon entry to the Electric Eel, diners immediately note how modern, open and clean it is. It has a full bar. "One of our most popular drinks is the Jade Dragon." But if refreshing martinis aren't your passion, from 3-7 p.m. on Wedsnesday enjoy 99 cent drafts or $2 wine. Of course, happy hour is daily from 3 to 6 p.m. and you can't beat $4 California rolls or beef skewers.

An overall favorite (and a more frequently requested birthday party venue from kids!) are the Teppan tables. Not only is it mouthwatering food, but it's quite a show! "Many people have said they met neighbors they didn't know who lived down the street from them. It's a social experience," Kirshner added.

If an extensive menu, great value, fun times and the gamut of adult beverages haven't piqued the interest or whetted the appetite, maybe free entertainment will. Check out Bill Dutcher on Friday nights and Duffy King on Saturdays.

Electric Eel is so much more than raw and cooked fish. There is an impressive sushi bar, however, behind which you may find Ahn, one of the few acclaimed women sushi and Asian cuisine chefs. The beautiful patio can be reserved for parties. It overlooks the Tatum Ranch Golf Course.

For over four years, Electric Eel has been there for its neighbors, its community. Stop in 30815 N. Cave Creek Rd. for amazing food. Or, phone 480-595-9000 for hours and carryout.