BY LINDA BENTLEY | JULY 25, 2012
Cold Case Posse calls Obama's birth certificate 'fictitious'
'Document could only have been created with 'substantial human intervention'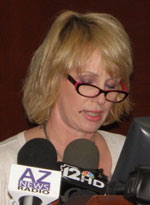 PHOENIX – Just prior to the start of Maricopa County Sheriff Joe Arpaio's July 17 press conference, MCSO Director of Media Relations Lisa Allen (l) instructed the media that they would only be answering questions about the findings pertinent to the Cold Case Posse's investigation and stated, "The media's contempt has been duly noted."

Arpaio told the media, as he did in March, the investigation was initiated after receiving a petition signed by 250 citizens to look into allegations of fraud surrounding President Obama's birth certificate and the original intent of the investigation was to clear the president.

However, he said, the Cold Case Posse found too many problems.

Arpaio said they reported their initial findings in March after a six-month investigation and there was probable cause the long form birth certificate released on the White House's website on April 27, 2011 was fraudulent as was Obama's Selective Service registration.


Before turning over the conference to Cold Case Posse lead investigator Mike Zullo (l), Arpaio said, "We uncovered other issues that should be of national concern."

Zullo stated a lot of the information was put together after their trip to Hawaii, which was when he said "everything started to jell."

He said they located Verna K.L. Lee, now 95, a registrar whose signature appears on the bottom of the birth certificate and who coded the original document.

According to Zullo, after Lee explained the process and what the penciled in number codes in the various fields meant, "From a forensic document perspective, it is not possible to come to what was presented without substantial human intervention."

He said the layers in the document were not consistent with optimization – they were consistent with tampering.

"I am fully persuaded, we can prove the document was altered," said Zullo, adding, "It cannot survive judicial scrutiny."

He said they learned, from talking to Lee, all the penciled in numbers on the birth certificate were codes for vital statistics for the federal government and the coding numbers seen on the president's long form birth certificate (LFBC) are inconsistent with the coding responses required by the federal government to match the information presented.

And the incorrect codes indicate Obama's LFBC has been altered or amended.

According to Lee, each birth certificate was coded by hand and was then checked by another employee.

According to Zullo, Obama could not have been born at Kapai'olani Medical Center and have the birth certificate number it has.

Obama was born the day before the Nordyke Twins, who were born at Kapai'olani, yet his LFBC has a higher number.

According to Lee, birth certificates came in from different regions and the birth certificates were coded by hand and batched and numbered by region in order of date and time of birth at the end of each month.

So, a number could appear out of sequence if it was from a different batch, meaning it came from an outlying area. In other words, Obama's LFBC could not be assigned that number if he were born at Kapai'olani.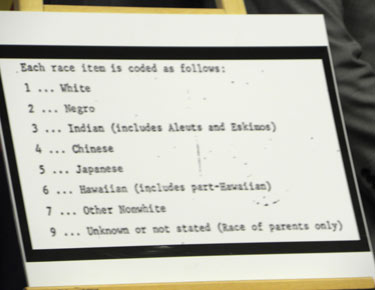 The number one appears on the Nordyke twins' birth certificate for father's race, whereas a number nine appears on Obama's.

The code nine was for "unknown or not stated," which indicates that field should have been blank.

However the field was not blank, it says "African," a term not used in 1961. The code would have been a number two and "Negro" would have been entered.

Zullo emphasized, "You cannot have a code 'not provided' with information stated in that box. That doesn't happen. The document has been tampered with."

From 1955 until 1982, a person could declare a birth and be issued a birth certificate regardless if they were born abroad to foreigners. According to Zullo, a lot of foreign citizens took advantage of Hawaii's lax laws, especially people from Japan.

In 1982, Hawaii expanded that program to make it even easier for people to obtain a Hawaiian birth certificate and de facto citizenship.

After spending some time in the law library, Dr. Jerome Corsi, who accompanied Zullo to Hawaii (at his own expense), located a March 1, 1982 letter from Hawaii Director of Health George Yuen to State Rep. Herbert Segwa, Chairman of the Committee on Health, regarding HB 3016-82, relating to birth certificates.

Yuen wrote, "This bill would require the Department of Health to issue birth certificates to children born or adopted anywhere in the world, if their parents were legal residents of the Territory or state of Hawaii and paid income taxes in Hawaii at the time of their birth or adoption.

"The Department supports this measure but wishes to point out that such a new activity could have a workload/budgetary impact in the Delayed Registration Section of the Vital Records Program."

Hawaii's birth certificate program required birth certificates to be issued to individuals, regardless of where they were born, whose parents were residents, not necessarily citizens, and paid income tax, thereby bypassing immigration laws.

Zullo said they could find no other agency anywhere in the country that has such a law.
He said, "The law is in conflict with immigration law. The law allows an adult to come in and make a declaration," even for himself.

"This is a problem," said Zullo. "Lay the partisan issues aside. This is rampant birth certificate fraud."

When U.S. citizens are born overseas to U.S. citizen parents, Zullo said the federal government issues a birth certificate stating the child is a U.S. citizen born overseas.

Hawaii law states the Department of Health "shall issue" birth certificates based on such declarations, which Zullo said is in direct conflict with the U.S. Supreme Court's recent rulings.

Zullo told about the total lack of cooperation they received in Hawaii by the Department of Health and Kapai'olani Hospital.

He said, "If the Department of Health in Hawaii didn't create this PDF, then it's a forgery.
Any way you twist and turn with this document, it is in conflict with itself. There is not a document examiner in the nation than can authenticate it."

Zullo also said they've received information indicating some of Obama's family photos have been altered and question who his real parents may be.

Zullo ended the presentation with an 11-second video clip of Obama saying, "What's important is if you are running for president is that the American people know who you are and what you've done and that you're an open book."

Arpaio said, "Show us the microfilm and we'll all go back home."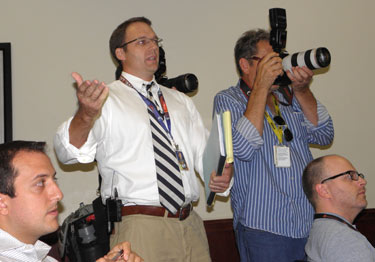 Morgan Loew (standing, left) with CBS affiliate Channel 5 asked, "How do you expect any of us to believe any of this?" and accused Cold Case Posse lead investigator Mike Zullo and reporter/author Dr. Jerome Corsi of being conspiracy theorists.

Arpaio responded, "You're trying to go after the messenger … These are the facts. Mike Zullo has done a great job. My mission – We wanted to clear the president of the United States. It didn't happen that way."

Melissa Blasius from Channel 12 News NBC affiliate said the investigation "lacks facts," and, with little success, tried to poke holes in Zullo's credentials.

Zullo responded, "This document is fictitious and the president took ownership of it. The Department of Health did not create this document."

Arpaio said he would like Congress to address this issue as well as how easy it is to get a birth certificate in Hawaii.