BY PETE MOHR | JULY 25, 2012
Meet the Football Falcon seniors … Alex Fisher
On New Year's night, 1972, in Miami's Orange Bowl, Nebraska won the NCAA National Championship by cornhusking Alabama, 34-6. Had they wanted to, Johnny Rogers & Co. could've made it 100-6! I had Bama +7 from a bookie in Baltimore, a $500 wager I thought was the biggest theft since "The Great Train Robbery." I haven't bet a football game since.

But now, some 40 years later, I'm sticking my neck out again: I'll bet the first reader to call me (at 757-286-2090) with a verifiable answer that other than our own Cactus Shadows, there isn't another football team in the USA that has two sets of twins on its roster. To the winner (if there should be one), I'm offering a pulled pork barbecue sandwich and (in honor of the late Andy Griffith) a 44 oz. "Big Orange" from Harold's, the Buffalo Chip or Bryan's – winners choice.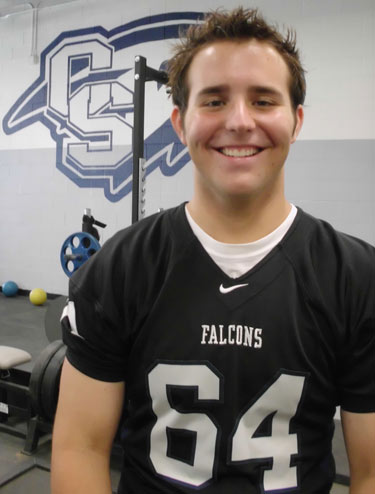 And who are the local twins? In alphabetical order: Alex and Cody Fisher and Cody and Connor Folts – Cody Folts medically cleared to play his senior season after a concussion knocked him out (literally) in 2011. Welcome back, Cody! He'll be a faluable deep threat receiver. Again in alphabetical order, this issue's profile belongs to Alex Fisher – all 6', 210 lbs. of him.

Alexander Thomas Fisher was born December 7, 1994 in Dallas, Texas, five minutes ahead of identical twin brother, Cody. You can tell 'em apart by jersey numbers: #64 for offensive guard Alex and #57 for defensive tackle Cody. They are the only sons of Creekers Troy and Stephanie Fisher. Older sister Sarah, 25, defected to Pinnacle and now lives/works in Phoenix.

The Fishers moved to the Desert Foothills in November 1999. "The Twins" began playing Youth Football at age nine, attended Desert Arroyo, and have been Football Falcons all four years at CSHS – always in the trenches. Both lettered last season.

Alex is dead set on enjoying his senior season – regardless of how the W-L record turns out. "We started badly last year," he concedes, "Sorta' ran out of gas in too many games after we'd come out strong in the first two quarters." Falcons will be better paced this season, Alex predicts.

His personal football goals are modest and unselfish: "Hoping to start every game at offensive left guard; protect Bryce (Kinsler); and help this team any way I can." What about the Falcons? "We want to 'Protect the Nest' – especially at Homecoming and gain respect for our football program. That's what Coach Davis stresses to us. We want Cactus Shadows football to be known."

Alex volunteered, "Playing football, for me, has been much more than just the game itself. I've learned how to persevere … follow through toward my goals, and, through my teammates, the value of loyalty. Football has helped me in every aspect of my life." He acknowledges "my Dad" as his biggest supporter and most instructive Game Night "scout." But Alex has no present plans to play collegiately. He hopes to attend ASU.

Coach Davis on Alex: "He's an intelligent player … a self-starter. I don't have to give him a lot of direction. He knows what to do – and does it. He'll definitely get a shot at starting for us."

Yes, playing football has helped Alex. Now he's one of 15 seniors who are determined to "help" the Falcons. Watch him – he'll do his part.