JULY 18, 2012

Wil Cardon • Goodbye Steve Nash

I had the pleasure the other day to meet and interview Wil Cardon, a candidate for Jon Kyl's Senate seat. Others of note are Congressional Republican incumbent Jeff Flake and Democrat Richard Carmona, former U.S. Surgeon General under George W. Bush.

Cardon's race against Flake started months ago and he has gained a near tie starting from zero. Cardon has the advantage of wealth and is rumored to have spent $5 million of personal funds for advertisements which blasted Flake. In the meanwhile Carmona has attacked Flake from his Tucson liberal retreat. His current advertising campaign is using the kind words attributed to both Arizona senators about him when he vacated his government role. Carmona is polling ahead of Flake and so far ignores Cardon.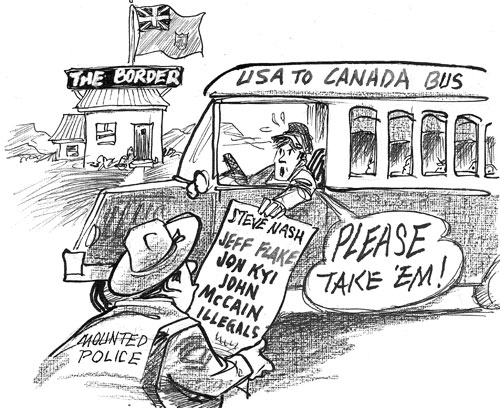 Up until last week Kyl denied he would endorse anyone running for his seat. He lied, just as Flake has. Kyl, who has played his subordination to senior senator John McCain to a disgusting degree, joined McCain in endorsing Flake and denigrating Cardon. Why wouldn't he? They are professional politicians just as Flake is, while Cardon meets the founding fathers' definition of temporary service in politics after making it as a businessman.

Let us not forget, Flake is for open borders and illegal immigration just as the embarrassing duo are. Both of these men went along to get along rather than doing what they could to insist government close the borders and kick illegals out.

When Proposition 200 was being debated in 2004, I met with a group that included Kyl, Kathy McKee, Russell Pearce and perhaps five others. When Kyl was queried about Prop. 200, he said he wouldn't talk about it with the press present. He was advised I would accept off the record discussion. He went on to brag that regardless of the fact he wasn't a practicing attorney he was nonetheless a "damn good attorney" and the proposition was badly flawed. He said he would tell a smaller group why. There was a meeting but no one ever was willing to tell me what he said, although he was clearly wrong. Prop. 200, which won by 56 percent, required voters to provide proof of citizenship and show ID to register to vote.

McCain, on the other hand, is a patriot and has used his imprisonment in Hanoi to become a statewide darling. People neglect, as does the press, that he dumped an ailing wife to marry a wealthy heiress. McCain, like Flake, is all about "comprehensive illegal immigration" and is quick to leap across the aisle and adopt Democrat ideas. His political friends are the tip off, John Kerry, the late Ted Kennedy and Senator Lindsey Graham. Not a conservative among them.

Flake's endorsements from people like him are nothing to brag about. Have you wondered why Flake is pro open borders? It may be because his global family profits from them.

His uncle, Jake Flake, now deceased, was in the Arizona legislature for about ten years and in powerful positions. I saw his tendencies to be pro-illegal aliens and contacted a newsman in Snowflake where Flake lived. It was confirmed that Flake cast a long shadow there and he could help or hurt you. A tale was told about the huge population of Flakes there and how they all profited from illegal aliens. Some illegals did farm and ranch work, but other Flakes profited from rentals, food and health care.

In Jeff Flake's case it may not be solely a libertarian philosophy, but a family matter.
Flake has taken criticism for his public promise to limit himself to three terms. When asked about his failure to step down he said, "I lied," and laughed. It is not a laughing matter and neither is his desire to rescind the boycott of Cuba.

Cardon is a perfect example of what our founding fathers hoped future politicians would be, a successful businessman with patriotism and constitutional bearing and beliefs. Russell Pearce studied a run against Flake and backed off because of Flake's treasure chest from fund raising and lobbyist buddies. Now Pearce, his friend and comrade in arms, is giving his all to Cardon.

God Bless Wil Cardon, we are rooting for you! Check him out on his web page, WWW.WILCARDON.COM.
Steve Nash
Steve Nash, the green card alien, has left the Phoenix Suns for the Los Angeles Lakers. I wonder what legendary Kobe Bryant thinks about that? Nash was always a favorite of the Arizona Republic and they covered his exit on three pages.

A few years ago, both Nash and Suns' owner Robert Sarver went ballistic over SB 1070, Russell Pearce's superb bill intended to do what the federal government doesn't do – namely protect our sovereign borders. As an alien himself (he is Canadian) it was none of his business. Los Angeles is the home of countless illegals who don't belong here but should welcome the ultra libtard Nash. Maybe he will invite them into his mansion to live.

Nash was twice an NBA MVP in spite of his limp defensive performance. One sports writer attributed it to the fact that Nash is white, while Shaq with five championship rings was only MVP once.

Nash, with Sarver's support, also spearheaded the drive with teammates to get "Los Suns" on their jerseys during Cinco de Mayo.

To add further insult, the Arizona Republic printed a double page on Sunday, July 18 showing Nash in all kinds of heroic stances. Will it ever stop?

Dennis Miller, the conservative comedian, had a great idea when Nash and Co. got agitated. He suggested we hire stratocruiser buses, pick up illegal aliens at our southern border and drive them north to dump them in Canada.

In any case, good riddance.