BY LINDA BENTLEY | JULY 18, 2012
Religious persecution or media con job?
After reassuring the city that the structure "would not be used for a public place of worship," Salman was issued a permit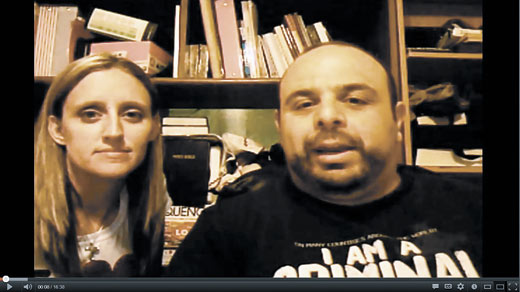 Michael Salman, wearing a T-shirt that states "I am a criminal," with his wife Suzanne, uploaded a YouTube video the day before he was to report to jail to serve a 60-day sentence for 67 counts involving zoning code violations, claiming religious persecution.


PHOENIX – Michael Hashem Salman's case has become an international news story of religious persecution against a Christian man and woman who were simply holding Bible study sessions in their home.

And, it appears the media has been conned all the way up to the Sean Hannity Show and beyond into believing Salman's story.

Salman, 39, was convicted in Phoenix Municipal Court on 67 counts involving building and zoning code violations, which were subsequently upheld on appeal in Maricopa County Superior Court.

Salman was ordered to serve 60 days in jail, three years of probation and pay a $10,000 fine along with $2,000 in jail costs.

On the day before he was to self-surrender to serve his jail sentence, Salman, wearing a T-shirt emblazoned with "I am a criminal," and his wife Suzanne, posted a video to YouTube, to tell the public how they were being persecuted for their religious beliefs.

For the record, Salman is a criminal.

He was found guilty of aggravated assault, a class 3 felony, by a jury in 1993 and was sentenced to six years in the Arizona Department of Corrections, where he served from July 1993 until his release in February 1999.

Salman's application to have his judgment vacated and his civil rights restored was denied last year due to his failure to pay the remaining $3,000 in criminal restitution to his victims and other fees.

The Harvest Christian Fellowship Arizona website states, "Pastor Michael Salman is a Pastor of the Christian Faith. He was ordained in 1996 by the Elders of the Church of God in Christ - Pastors Roy Hadnot and James Moore in Winslow, Arizona," indicating he was ordained while in prison.
It also states Salman and his wife Suzanne married in 2000.
That is the same year Salman's former wife Sarah Hansen was issued a decree of annulment, following her order of protection against Salman.
In July 2002, Church of All Nations filed a forcible detainer action against the Salmans.
According to court documents, Salman was hired by the church in May 2002 to be its senior pastor.
Although the Salmans didn't live onsite, Salman changed the locks to the church premises and took other actions with which various members of the church's board of directors disagreed.
The board terminated Salman as senior pastor in June 2002.
Claiming he was improperly terminated, Salman stated at trial he had an oral understanding that he couldn't be terminated unless he led a sinful lifestyle. Since he wasn't living a sinful lifestyle, Salman believed he couldn't be terminated and refused to turn over control of the premises.
Hearing Officer R. Jeffrey Woodburn rejected Salman's claims and found the Salmans guilty of forcible detainer.
In 1994, Salman recorded a "Notice of Revocation of Power of Attorney" with the Maricopa County Recorder's Office in which he declared himself a "de jure freeborn unenfranchised (sic) citizen of God's Kingdom … and not a de facto National Citizen of the United States under the 14th Amendment, nor a common law citizen operating under a franchise or involved in a revenue taxable activity, and not a ward of the United States Congress, who has taxable citizenship through Social Security, or government employee or any other type of governmental franchise."
It stated, "Ambassador Michael Hashem Salman has always been a natural freeborn individual and has never been a citizen of the United States of America, or any state therein, and is foreign to the governments thereof."
Salman also recorded a "Vow of Poverty" in which he claimed any remuneration received when performing work, business or services among the general public is not his personal income, but is actually the church's income and merely received by Salman for the church as an agent.
In upholding Phoenix Municipal Court's ruling, Maricopa County Superior Court Judge Crane McClennen laid out the factual background, beginning with Salman's 2008 application for a property tax exemption for his 31st Avenue residence in Phoenix, where he lived with his wife and six children, on behalf of the Harvest Christian Fellowship Community Church.
Robin Hurt from the Maricopa County Assessor's Office inspected the property to determine if it qualified and, during that inspection, found a sign on the outside of the property bearing the church's name.
On the inside he saw a podium, folding chairs and other items typical in a place of religious worship.
Hurt determined the property was being used as a place of religious worship, and, as a result of that determination, granted the tax exemption.
In 2007, prior to being granted the property tax exemption, the Salmans' property taxes were $4,430.
In May 2008, Frank Dancil from the Phoenix Planning and Development Services Department visited the site in response to complaints from neighbors that the property was being used as a place of religious worship.
On several occasions during May and June 2009, Dancil and others inspected the property, finding numerous zoning and building code violations.
McClennen determined Salman's refusal to comply with the applicable building and zoning codes was not motivated by any religious belief and stated, "Those building, fire, safety and zoning codes apply to every religious organization in the city of Phoenix, and those religious organizations appear to be able both to comply with those codes and conduct their religious activities."
In conclusion, McClennen affirmed the judgment and sentence of the Phoenix Municipal Court and said the evidence showed Salman's activities violated applicable codes, he was engaged in public or church activities and his convictions did not violate his constitutional right to religious freedom.
In his dismissal of the Salmans' complaint against the city in federal court in October 2011, U.S. District Judge Frederick J. Martone discussed how neighborhood concerns caused Councilman Claude Mattox to meet with the Salmans, neighbors and city officials in February 2007, where the Salmans were told, pursuant to city ordinances and codes, religious activity within a residence is considered church use and was not permitted on their property without the requisite permits.
As a result, the Salmans were informed they could no longer conduct Bible studies in either their residence or barn.
In May 2007, the Salmans submitted plans to construct a building they could use for Bible studies and worship. However, they withdrew their application after new parking requirements were introduced for places of worship.
In November 2008, the Salmans filed for a new permit to erect a structure in their backyard.
In 2009, after reassuring the city the structure "would not be used for a public place of worship," Salman was issued a permit and a structure was built.
Although the Salmans claimed the building was not advertised as a public place of worship, every week about 40 or 50 people would gather there for Bible studies or worship.
After obtaining a search warrant in June 2009, officials found a sign in the Salmans' front yard advertising dates and times for Christian worship in addition to discovering numerous code violations, which resulted in Salman being issued a notice of violation.
Salman was ultimately convicted of 67 building and zoning code violations and was appealing his convictions at the time he filed his complaint in federal court.
In the interim, the Salmans continued to conduct Bible study and worship services at their residence.
Last year, Suzanne was charged for violating the city's sign ordinance while Michael was charged with seven additional building code violations.
On Oct. 20, 2011, Martone granted the city's motion to dismiss, without prejudice, concluding, "State claims are best resolved by state courts."
The Salmans filed a new complaint in U.S. District Court in 2012, claiming, once again, the city's codes and ordinances violated their right to free exercise of religion as guaranteed by the First Amendment, that the city's codes and ordinances violated their right to equal protection under the Arizona and U.S. Constitutions, as well as civil conspiracy and other claims.
U.S. District Judge James A. Teilborg said the plaintiffs were unlikely to succeed on the merits of their claims and stated, "Plaintiffs have failed to allege any fact or otherwise demonstrate that anything has changed with regard to Judge Martone's ruling …"
Teilborg said, "This court has no authority to collaterally review the decision of another judge within the court."
He also stated the Salmans' claims necessarily depended on his court reaching opposite findings on the issues discussed in the Maricopa County Superior Court order and said, "Accordingly, plaintiffs' claims are barred …"
Teilborg said the court lacked subject-matter jurisdiction over their claims and stated, "Because this court cannot proceed where it does not have jurisdiction, this case will be dismissed."
The Salmans are appealing to the Ninth Circuit Court of Appeals.