JULY 18, 2012
Obituary
Robert John "Jack" Jones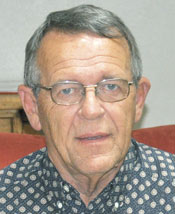 Robert John "Jack" Jones, age 68, formerly of Wayzata, Minn., passed away July 10, 2012 with his loved ones by his side. Jack was a loving husband, father, grandfather and brother.

He graduated from St. Louis Park High School, attended the University of Minnesota, was a U.S. Marine Corps reservist and worked in the printing industry for over 40 years.

He and his wife relocated to Arizona in 1997, where Jack founded Desert Hills Design, creating and fabricating custom tables from stone and tile. He worked for Home Depot and served on the Board of Directors for the Desert Foothills Community Association, the organization that produces the annual Cave Creek Fiesta Days™ Rodeo.

He restored vintage cars, was a boating enthusiast and passionate collector of Native American arts.

Jack was preceded in death by his parents, Tom and Jean and brother, Tom. He will be deeply missed by his loving wife of 45 years, Jan; daughters Jill (Scott) McFadden, Jennifer Jones, both of Springfield, Va., grandchildren, Leo and Ivy McFadden; sister Sally McCabe of Plymouth, Minn., brother Steve Jones of Green Bay, Wis. and numerous nieces and nephews.

A memorial service celebrating Jack's life is to be held at 3 p.m. on Monday, July 23 at Blue Sage Gallery, Stagecoach Village, 7100 E. Cave Creek Road, Suite #131, Cave Creek, Ariz.
In lieu of flowers, a donation basket will be provided.