JULY 18, 2012
ProMusica Arizona recruiting for Tenth Anniversary season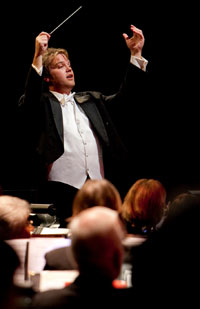 ANTHEM – ProMusica Arizona (PMAZ) is pleased to announce Adult Chorale and Orchestra auditions and Youth Orchestra auditions for its upcoming tenth anniversary season.

Additionally, the organization is recruiting to hire a Youth Orchestra Conductor who also will play in the Adult Orchestra and a Concertmaster/mistress for the Adult Orchestra.

The PMAZ Chorale & Orchestra 2012-2013 concert season plans include a patriotic salute on November 3 & 4 in recognition of Veterans Day; a return to the audience favorite, Joyous Noel, with new lessons and carols on December 15 & 16; a classical performance at the historic Orpheum Theater in downtown Phoenix on March 23; and a season finale on May 16-19 showcasing PMAZ's talented members performing Mozart's Symphony #40 (The Great G Minor), the one-act Gilbert & Sullivan operetta, Trial by Jury, and audience favorites from PMAZ's ten-year performance history.

The PMAZ Youth Orchestra members also will have concert performances during the season, and will benefit from adult mentoring and opportunities to play side-by-side with adult members.

Auditions will be held at 34975 N. North Valley Parkway, Suite 152 in Tramonto:
August 10, 6 – 10 p.m.
August 11, 4 – 8 p.m.


Adult Chorale – All voices are welcome to audition, but tenors and basses are especially needed. Vocalists should be able to read music and have some experience in a choir. No prepared piece is required. Auditions for vocalists consist of an assessment of range, vocal quality, intonation and reading ability. Weekly Chorale rehearsals are on Tuesdays from 7 – 9 p.m. at Boulder Creek High School in Anthem.

Adult Orchestra – Auditions for all instruments are welcome. Instrumentalists require at least an intermediate level, but preferably an advanced level of skill. A two-minute prepared piece is appreciated, but not required. Weekly Orchestra rehearsals are on Mondays from 7 – 9 p.m. at Boulder Creek High School in Anthem.

Youth Orchestra – The mixed instrumental Youth Orchestra is for musicians grades 6 through 12. String, brass, woodwind and percussion instrumentalists with intermediate to advanced capabilities who are currently taking individual lessons on their primary instrument are invited to audition. Weekly rehearsals are on Mondays from 4:15-5:45 p.m. at Boulder Creek High School in Anthem.

For an audition appointment and directions, call 623-889-7144 or email Yvonne Dolby at ydolby@pmaz.org. For additional information or questions about the PMAZ Chorale or Orchestras, contact PMAZ Artistic Director, Adam Stich at astich@pmaz.org.

ProMusica Arizona Chorale and Orchestra's mission is to enrich the Phoenix North Valley community by sharing the joy of music with its members and audiences. Founded in 2003 and incorporated as a 501(c)(3) non-profit organization in 2004, it has achieved resounding success in a very short time, due to the dedication of its members and outstanding community support. For more information, go to www.pmaz.org or call 623-889-7144.