JULY 11, 2012
Golden alga causes fish die-off on Salt River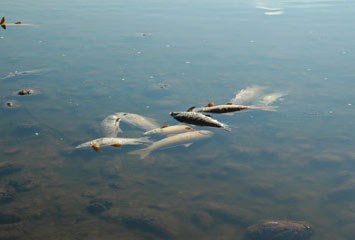 Thousands of fish are dead on a 20-mile stretch of the Salt River, where it flows into the east side of Roosevelt Lake. The Arizona Game and Fish Department began receiving reports of dead fish from the public on Wednesday, July 4, and department officers confirmed the fish die-off. A response team took water samples and collected dead fish on Thursday, and this morning's lab tests revealed high concentrations of Golden alga believed to be the cause of the die-off.

Golden alga can produce a toxin that impacts the gills of fish and causes them to suffocate. Golden alga was first reported to cause extensive fish-kills in the 1930's and has been found in California, Nevada, New Mexico, Texas, and at least a dozen other states. Biologists have not yet determined if Golden alga occurs naturally in Arizona, but it has been identified in more than 20 lakes statewide since 2003.

Despite extensive research, biologists do not yet know exactly what causes Golden alga to produce the toxin that is fatal to fish, crayfish, mussels, and all gill-breathing creatures. However, experts have noted a connection between extended drought, elevated salinity in waterways, and fish-kills caused by the toxins in Golden alga.

"We believe that drought conditions and increased salinity may create an environment where Golden alga can thrive," said Kirk Young, a fisheries biologist with Game and Fish. "Golden alga is found most often in waters with especially high salinity."

The Salt River takes its name from the salt springs that are found upstream and responsible for the water's high salinity in periods of low flows, Young said. The salinity in the Salt River is more than three times the concentration currently found in Roosevelt Lake.

Biologists do not believe that the Golden alga problem will extend into Roosevelt Lake in the near future, primarily because the high salinity and algae concentrations found in the inflow water from the Salt River are diluted when mixed with water already in the lake, and it becomes less than toxic to fish.

Game and Fish will continue to investigate the situation and monitor waterways along the Salt River, including Apache, Canyon and Saguaro lakes where Golden alga is believed to still exist, but currently in low concentrations. Small systems such as urban ponds can be treated to eliminate Golden alga, but there currently exists no way to treat large system reservoirs or rivers.

Game and Fish will continue to investigate the situation and monitor waterways along the Salt River, including Apache, Canyon and Saguaro lakes.

However, if drought conditions persist, downstream reservoirs could be at risk in the future. To date, no adverse health impacts have been noted for humans or non-gill-breathing wildlife that have come in contact with waters experiencing a Golden alga toxin bloom. The die-off has included species such as catfish, carp, bluegill, red shiner, largemouth bass, buffalo fish and crayfish.

Game and Fish advises the public not to eat any dead or dying fish they find anywhere regardless of the cause. However, people can continue to eat the fish they catch, as long as the fish are properly cleaned and thoroughly cooked.