BY LINDA BENTLEY | JULY 11, 2012
U.S. Supreme Court upholds voter fraud in Arizona, for now
PHOENIX – On June 13, the state of Arizona filed an application with the U.S. Supreme Court to stay the mandate of the Ninth Circuit Court of Appeals which found the National Voter Registration Act (NVRA) preempts the application of A.R.S. § 16-166(F), known as Proposition 200, requiring proof of citizenship when registering to vote and showing ID when going to the polls to vote. Keep reading ...
BY LINDA BENTLEY | JULY 11, 2012
Carefree seeking public comment on test sign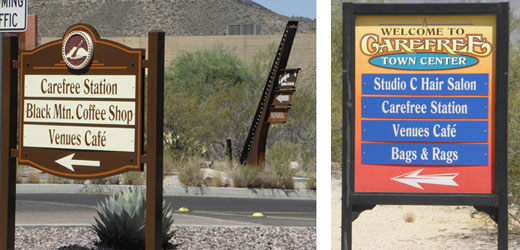 Carefree has erected a new business directional test sign (l) at the Cave Creek Road and Carefree Drive roundabout as the possible replacement design for what Councilman Glenn Miller refers to as the "circus signs" and is seeking the public's opinion. One of the original "sundial" directional signs, deemed ineffective by the business community, can be seen to the right of the new test sign. E-mail Council@Carefree.org to comment about the new sign.
BY LINDA BENTLEY | JULY 11, 2012
Christmas Festival a budget sticking point with Van Allen
Schwan said he listened to the tape of the meeting twice and stated, 'The minutes accurately reflect what went on at that meeting'
CAREFREE – With five minutes set aside for the public budget hearing to adopt a resolution to approve the final budget, there were no questions from council or comments from the public. Keep reading ...
BY LINDA BENTLEY | JULY 11, 2012
CCUSD93 performance audit revealed
Overall, the district fared well in most areas reviewed, with higher student achievement and efficient operations
CCUSD93 – The office of Arizona Auditor General Debbie Davenport recently completed a performance audit of the Cave Creek Unified School District, which was presented to members of the Arizona State Legislature, Governor Jan Brewer, the CCUSD93 governing board and Superintendent Debbi Burdick on June 26, and released to the public on June 27. Keep reading ...
BY LINDA BENTLEY | JULY 11, 2012
Ohio PI challenges Obama's ballot eligibility based on fraudulent SSN
'An in-person interview is required if the applicant is age 12 or older and is applying for an original SSN'
CHARDON, Ohio – Last week, Susan Daniels filed a complaint in the Geauga County Common Pleas Court seeking an injunction to prevent Ohio Secretary of State Jon Husted from placing Obama's name on the Ohio ballot as well as a writ of mandamus to require Husted to investigate Obama's use of a fraudulent Social Security Number before allowing Obama's name to appear on the ballot. Keep reading ...
BY LINDA BENTLEY | JULY 11, 2012
State and Peoria firefighters respond to fire near Lake Pleasant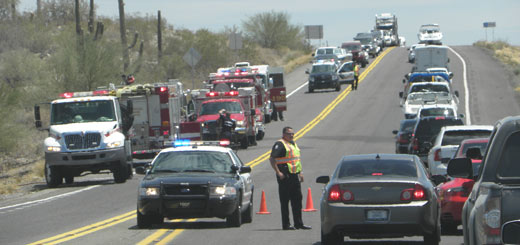 Both state and Peoria firefighters responded to a brush fire alongside the westbound lane of Carefree Highway just east of Lake Pleasant on Sunday afternoon, causing traffic stoppages in both directions as Peoria police officers directed eastbound and westbound traffic alternately through a single lane.