BY LINDA BENTLEY | JULY 11, 2012
Christmas Festival a budget sticking point with Van Allen
Schwan said he listened to the tape of the meeting twice and stated, 'The minutes accurately reflect what went on at that meeting'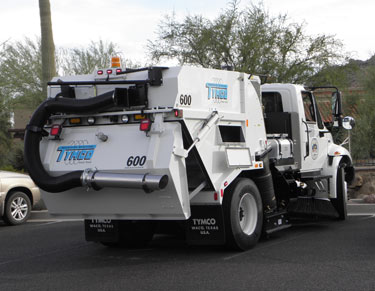 Carefree staff obtained a grant through Maricopa Association of Governments to purchase a new $200,000 street sweeper at a cost to the town of about $10,000. The new equipment was on display in the parking lot during Tuesday evening's meeting. Photos by Linda Bentley

CAREFREE – With five minutes set aside for the public budget hearing to adopt a resolution to approve the final budget, there were no questions from council or comments from the public.


When it came time for comments from council, Councilman Jim Van Allen (r) stated what an outstanding job Town Administrator Gary Neiss and Town Accountant Jim Keen did in putting the budget together.

He then went on to say he met with Jo Gemmill to discuss the funding for the Christmas Festival and said last year the budget was $68,000 and this year it is $76,000, while expenses last year totaled $48,000 and didn't understand why they asked for $68,000.

"I'm not going to hold up the budget for lack of transparency on this item," said Van Allen prior to making a motion to approve.

Councilman Glenn Miller took issue with Van Allen's remark about transparency and stated the budget was based on anticipated donations.

Mayor David Schwan said, "I too take exception to the comment on lack of transparency."

After restating the motion to conform to the adoption of a resolution to approve the budget, it passed unanimously.

During the regular council agenda, Van Allen commented about the minutes from the June 12 meeting and wanted to confirm his understanding of what went on during that meeting as it pertained to the new business directional signs.

Schwan said he listened to the tape of the meeting twice and stated, "The minutes accurately reflect what went on at that meeting."

When Van Allen began discussing his understanding of what went on at that meeting, Schwan interjected, "All we're talking about is the accuracy of the minutes."

The minutes were approved by a vote of 5-1-1, with Van Allen dissenting and Councilman Marty Saltzman abstaining because he wasn't present.

During Current Events, Schwan announced the town was able to purchase a new $200,000 street sweeper, which was on display in the parking lot, at a cost to the town of about $10,000.

He credited staff for obtaining a MAG (Maricopa Association of Governments) grant for the equipment purchase.

Schwan also said there was a new business directional sign installed next to the roundabout at Carefree Drive and Cave Creek Road. He asked the public to submit any comments they may have by July 23 and indicated he'd already received a few.

Van Allen brought up that morning's accident on Carefree Highway, which had the road closed between Tom Darlington and Cave Creek Road for hours and asked if it wasn't time for the town to put pressure on the city of Scottsdale to make improvements.

Schwan said they couldn't discuss the issue because it was not on the agenda.

Council unanimously approved various road closures for the Octoberfest for Parkinson's event on Oct. 20.

As council was about to approve a contract with Robert Martino to install seven additional pedestrian street lights in town, Van Allen asked Neiss if he had read the contract the town had with the original contractor and stated it contained a clause that says the town cannot use his engineering specs without paying him some compensation.

Neiss claimed the town owned the specs and not the engineer.

Van Allen requested Neiss read the contract.

Neiss clarified for Councilman Arthur Gimson that the bid submitted by Martino was indeed $19,000 below budget and there were no other additional costs.

Council voted unanimously to approve the contract with Martino pending Van Allen's requested review of the former contract.

Council also unanimously approved a contract with Let There Be Light to install 40 bollard-style fixtures and six pathway lights at a cost of $43,278, to illuminate the town garden area at night.

In another unanimous vote, council approved closing a certain stretch of Easy Street in front of Venues Café from 6-10 a.m. on Saturday mornings from August 2012 to August 2013 for their hot rod breakfast car shows, with a few exclusions for art festivals and other events that may conflict, during which time Venues would be precluded from closing the road.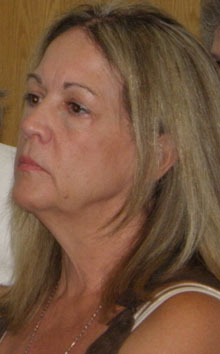 Venues owner Catherine Marr (r) said she spoke to some neighbors, not all, but stated she did not want to impact her neighbors at all.

In her application, which was suggested by the town for liability reasons, she stated the other businesses didn't open until 10 a.m.

Neiss indicated the road closure would prevent people who enjoy looking at the cars from being hit by traffic as they stand in the street.

Miller recommended an alternative road closure for Marr's Saturday morning breakfast.

However, Marr said the alternative plan would impact her neighbors.

She said, "If it were up to me, we wouldn't close the street. We're just trying to address a liability issue."

Ron Junier, who chairs the Kiwanis semi-annual pancake breakfast, said most of their equipment is brought in on Friday night but they would need access on Easy Street until around 6:15 a.m. on those mornings.

Another citizen said he thought the pancake breakfast events should be added to the exceptions, stating the Kiwanis event draws 700 people to the town center.

Schwan said the road closure would be a work in progress and if problems arose, it could be adjusted and dealt with by town staff.

He also said the hot rods brought people to the pancake breakfast and the pancake breakfast brought people to town.

Council unanimously approved the Saturday morning road closure for Venues with the cited exceptions and town staff to adjust as necessary.