BY LINDA BENTLEY | JULY 11, 2012
CCUSD93 performance audit revealed
Overall, the district fared well in most areas reviewed, with higher student achievement and efficient operations
CCUSD93 – The office of Arizona Auditor General Debbie Davenport recently completed a performance audit of the Cave Creek Unified School District, which was presented to members of the Arizona State Legislature, Governor Jan Brewer, the CCUSD93 governing board and Superintendent Debbi Burdick on June 26, and released to the public on June 27.

Audit results were also presented during the CCUSD93 governing board meeting on Tuesday, July 10.

Overall, the district fared well in most areas reviewed, with higher student achievement and efficient operations when compared to peer districts and state averages.

To analyze the operational efficiency of CCUSD93, auditors selected a group of peer districts based on their similarities in district size, type and location.

To evaluate costs, the audit focused on the district's efficiency and effectiveness in four operational areas: administration, plant operations and maintenance, food service, and student transportation.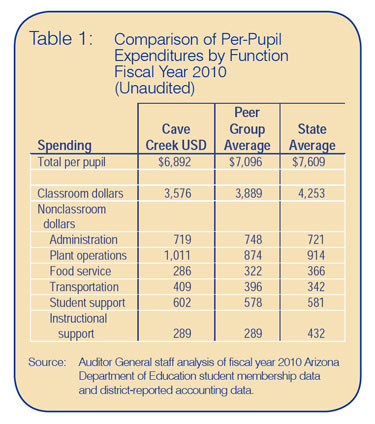 The auditors only considered "current expenditures," those incurred for the district's day-to-day operations, in evaluating costs, excluding costs associated with repaying debt, capital outlay (such as purchasing land, buildings and equipment), and programs such as adult education and community service that are outside the scope of preschool through grade 12 education.

In fiscal year 2010, AIMS scores were slightly higher than peer districts and much higher than state averages, while all eight schools met the "Adequate Yearly Progress" requirements for the federal No Child Left Behind Act.

CCUSD93 had a 95 percent graduation rate, compared to 92-percent for the peer district average and the 78-percent state average.

Auditors noted transportation costs were similar or lower than peer districts' cost on a per-pupil and per-mile basis, but it's costs per actual rider were considerably higher.

The per-rider costs were higher because students are transported 20 percent more miles for a similar number of riders.

The district struggled with keeping certain bus routes full because many of the district's students live far from the schools they attend.

This was attributed to all of the district's schools being located in the southwestern portion of the district's boundaries while students are spread throughout the district.

At least 20 percent of district buses traveled over 100 miles each day with ride times of an hour or more for students who live in the far reaches of the district.

While the report stated the district could potentially reduce certain operating costs, such as fuel, by sending smaller buses or vehicles instead of full-sized buses on those longer, lower-ridership routes, the district doesn't have smaller buses at the present time.

Plant operation costs for the district were substantially higher at a cost of $1,011 per pupil for FY 2010, compared to the peer group average of $874.

Cave Creek's higher plant operations costs for both per square foot and per pupil were attributed to "frequent community usage of its buildings and fields, maintaining more square footage per student and not having an energy conservation plan or procedures."

The district's electricity and water costs were more than 35 percent higher per square foot than peer districts'.

The audit team reviewed two months of facilities usage requests during FY 2010 and found community groups used the district's facilities an average of 600 hours each month.

A recent audit of a peer district indicated community rentals averaged only about 300 hours per month.

And, while the district charged fees for community use, the fees did not cover all of the district's costs to operate and maintain its facilities for community use.

The audit report notes the district began review of its facilities usage fee schedules in FY 2012 to ensure the fees cover the costs of renting out its facilities in the future.

The audit report also points out Cave Creek's higher electricity costs were due to its operating and maintaining 6 percent more square footage per student than the peer districts.

The additional space occurred mostly in the district's elementary schools, which averaged 161 square feet per student, double the 80 square feet per student state minimum standard for K-6.

Peer districts averaged 134 square feet per student.

The report states, "Operating more building space per student is costly because the majority of a district's funding is based on its number of students, not its amount of square footage."

Although the Arizona School Facilities Board provided adequate funding to build the district's newest elementary schools, the governing board voted to ask taxpayers for bonds to double the amount, enabling it to build double the square footage. That additional square footage has resulted in higher cooling and heating bills for taxpayers and less money spent in the classroom.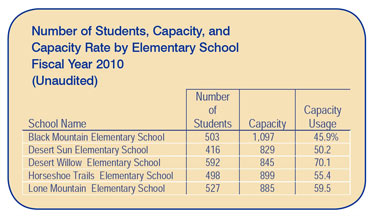 In addition to more space per student, CCUSD93's elementary schools were all found to be operating well below their designated capacities, with schools ranging from 45.9 percent (Black Mountain) to 70.1 percent (Desert Willow) of their capacities.

CCUSD93's elementary schools operated at an average 56 percent capacity, compared to its peer districts operating at 74 percent capacity.

Despite closing Desert Arroyo Middle School in 2011, the district's capacity rate only rose to 66 percent.

The audit noted CCUSD93 had no formal energy conservation plan in place during FY 2010, resulting in several inefficient practices, such as the leaving the district's exterior lights on from dusk until dawn and cooling school buildings until 9 p.m. on weeknights, even when unoccupied.

While CCUSD93 spends less per pupil at $6,892, than the peer group average ($7,096) and state average ($7,609), it also spends a smaller percentage of those funds in the classroom.
CCUSD93 spends only 52 percent of its funds in the classroom compared to 55 percent and 56 percent by the peer group average and state average, respectively.

Under "Other Findings" the audit found CCUSD93 did not consistently classify its expenditures for FY 2010 in accordance with the Uniform Chart of Accounts for school districts. "As a result, its annual financial report did not accurately reflect its costs, including both classroom and nonclassroom expenditures."

Auditors identified errors in classifying expenditures totaling approximately $1.6 million of the district's $38.6 million budget.

Also, during FY 2010, the district paid Classroom Site Fund (CSF) monies to four ineligible employees who were not directly involved in student instruction, as defined by the Arizona Attorney General.

Those four positions received nearly $10,000 in CSF monies in 2010 for which they were not entitled.