BY PETE MOHR | JULY 11, 2012
Meet the Football Falcon seniors …
Andrew Stephens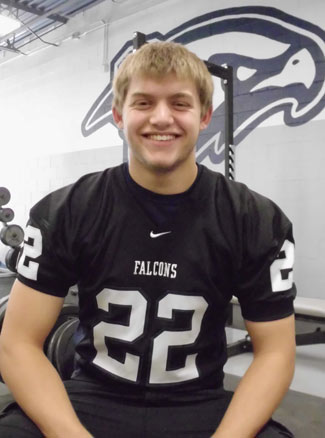 Knowing Andrew Stephens to be a commendably-modest young man, I'm certain he would want me to begin his senior profile by writing about his parents, "P.J." (for Paul) and Louise, and his four siblings: sister Ali (CSHS '06) and brothers Trace ('07), Anthony ('09) and Austin ('11). Lovely Ali is a professional equestrienne at a local horse training facility; Trace, who was a captain of the 2006 State Champion Falcons, will soon begin preparing for his career as a trauma nurse; Anthony is a rising senior at University of Redlands (California) where he plays football; and 'Stin will be a second-year student at a valley community college. Following brother Trace as a defensive end, Andrew will be the last of the "Stephens Sons" to suit up for Cactus Shadows. That, readers, makes me feel older than my 75 years! Hard-playing Falcons, all four of them.

About P.J. and Louise: if I had a dollar for every Cave Creek Youth Football snap P.J. has tirelessly coached, and if I could add another buck for every Falcon pregame meal Louise and other football Moms have helped prepare, I would have long since retired from sports reporting! And after the State Championship victory in '06, who hosted that night's celebration? P.J. and Louise, of course. I'm proud to nominate the seven Stephens as the "First Family of Foothills Football." Even though more than deserved, each would decline that accolade. Now to Andrew.

He was born Andrew Parker Stephens on March 9, 1995 in Glendale, Ariz. Andrew is a CCUSD "veteran" of 12 years, first playing "tackle" football as a 2nd grader and eventually moving on to Desert Arroyo Middle School. He's played football all four years at CSHS, last season at outside linebacker. With positional instruction from Trace, and nutritional guidance from Anthony, Andrew now rosters at a formidable 6' 2", 195 pounds. Coach Greg Davis on Andrew: "He'll definitely have an opportunity to start. Andrew shows a good work ethic, and I'm please to see his senior leadership skills emerging."

How does Andrew feel about his new position? And what are his personal goals for this season? "I liked playing linebacker," he told me, "but the assignments for defensive end are easier to learn." Andrew's sights are set on "starting every game," and he'd like to record ten sacks. He's fast enough – and tough enough – to accomplish both objectives. And what are the targets for the Falcons? Andrew's answer was consistent with the responses I've gotten from his senior teammates: "Go undefeated at home; earn a home game to start the State Playoffs; and then, of course, win the State Championship." Dream no little dreams, Andrew!

While on the subject of dreams, you can probably find Andrew, a 3.09 GPA student, in Barrett Gym (after football practice) cheering on Girls Volleyball – in particular, junior Katie Hanrahan. "No recruiting contacts right now," Andrew reports; but, like brother Anthony, he'd like to play football at the next level. Absent football, he's collegiately undecided.

Who has most encouraged Andrew's football? "Definitely my Dad," he answers quickly. In seasons past, P.J., from his seat high in the West Stands, would robustly exhort (then) Head Coach Chad DeGrenier, "Run the ball!" Better get ready, Coach Davis: I can almost hear P.J. now: "Stop the run, Andrew!" And I'm betting that he will. Best wishes for a great season!