JULY 11, 2012
State's best Slam Poets verb it out for state title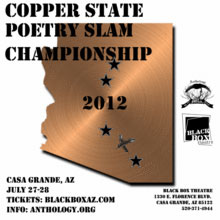 It's been 5 years since Arizona had a bona fide poetry shoot out for the top team of slammin' poets, and now the wait is over as we celebrate
the inaugural Copper State Poetry Slam Championships! The event is scheduled for
July 27th and 28th, 2012.

At the Core of the two day event are the four teams that will be representing Arizona at the Poetry Slam National Championships in August. Teams from Sedona, Flagstaff, Phoenix and Tucson will make their trek to Charlotte, NC August 7-11 for the chance to win the National Championships.

Competing against each other, as well as four additional teams of poets from around the state only heightens the excitement, and ensures that patrons will never have to worry about a dull moment.

The main competition, as well as additional events such as the Arizona Poetry Slam Legends Showcase, Youth Showcase, and other events are being held at Casa Grande's own Black Box Theater, located at 1330 E Florence Blvd., Casa Grande, AZ 85122.

This is a tentative Itinerary for the 2012 Copper State Championship Event, July 27-28. All scheduled events are subject to change.

Friday Itinerary July 27:
7 p.m. – 9 p.m.- Magic Show, Team Registration
9 p.m.- Preliminary Bout #1 (1st 4 teams) Top 2 advance
11 p.m.- Preliminary Bout #2 (2nd 4 teams) Top 2 advance
1 a.m.- Adult Open Mic

Saturday Itinerary July 28:
10 a.m. – Noon- Open Mic forno competing attendees
Noon – 1 p.m.- Publishing workshop with Aaron Johnson of Lawn Gnome Publishing
1 p.m. – 2:30 p.m.- Youth Improv Class
3 – 4 p.m.- Arizona State Youth Poetry Showcase
4 – 5 p.m.- Legends of AZ Slam
Final at 7 p.m.
10 p.m. Musical Mayem Cabaret/Post Slam Celebration

Information on scheduling and appearances.
Tickets are only $20 for the entire weekend if purchased online.